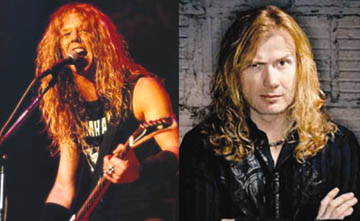 Metallica vs. Megadeth – album for album. This battle has taken place in my head many, many times through the years, and now it gets put to paper. Metal fans tend to take one side or the other here, aligning themselves with one of these bands and against the other, and I'm no different: I've always chosen Megadeth. But I'm a critic, damnit! I must be unbiased, so here it is.
Kill 'Em All vs. Killing Is My Business . . . And Business Is Good: This pairing is hardly fair to Dave Mustaine. He co-wrote half Kill 'Em All's songs, so not only does he lose this battle of debut records, he loses to his own songs. Ouch! In the end, though, Metallica win because Kill 'Em All was simply a more mature, complete debut than Killing. But both records provided classic pit anthems in Megadeth's "Rattlehead" and Metallica's "Whiplash." Winner: Metallica
Ride The Lightning vs. Peace Sells . . . But Who's Buying: The first truly tough decision. Both these records were obvious steps forward from the groups' debuts, but Peace Sells was a giant one for Megadeth. Metallica and Megadeth started to show signs of the technical excellence and ambition that would later define each on tracks like "Fade To Black" and "Good Mourning/Black Friday" respectively. Peace Sells, though, went down as an instant classic; Lightning (featuring more songs co-written by Mustaine) was the stepping stone to a classic. Winner: Megadeth
Master Of Puppets vs. So Far, So Good . . . So What?: The first truly easy decision. Mustaine was a strung-out mess on this record, and it showed. Though it includes two classics in "Hook In Mouth" and "In My Darkest Hour" So What is often laughable. Metallica, on the other hand, hit their peak with Master Of Puppets, their last record with bassist Cliff Burton and the album some consider the best metal record ever. While there is an argument to be made against such a lofty accolade, "Battery," the title track, "Welcome Home (Sanitarium)," and "Orion" make it a tough one. Winner: Metallica
. . . And Justice For All vs. Rust In Peace: For both groups, their fourth albums proved to be their most ambitious. Metallica welcomed Jason Newsted into the fold (though you wouldn't know by the mix), and made longer (not one song under five minutes), more complex songs. It worked at times, like "Blackened," "One," and "Harvester Of Sorrow," but spun out of control at others, like the nearly 10 minutes of "To Live Is To Die." Maybe realizing how bad So What was Mustaine (briefly) cleaned up, rehauled half his lineup (adding drummer Nick Menza and super shredder Marty Friedman), and created his masterpiece. "Holy Wars" is the first song on the record and defines it with its awe-inspiring intricacy and dazzling playing. This still remains Megadeth's pinnacle. Winner: Megadeth
Metallica vs. Countdown To Extinction: These two records were very similar. Both bands adopted slicker production and streamlined their songwriting to earn more mainstream attention, which they did, proving real heavy metal could fit on MTV and radio. Countdown and its crushing first single, "Symphony Of Destruction," might never have got that chance, though, if Metallica hadn't done it first with "Enter Sandman." Winner: Metallica
Load vs. Youthanasia: Metallica recorded one great metal song, "Until It Sleeps," and a bunch of decent rock songs like "King Nothing" on Load. Though little thrashes on Youthanasia, tracks such as "Reckoning Day" and "Addicted To Chaos" stuck a hell of a lot closer to Megadeth's roots than "Ain't My Bitch" did Metallica's. Winner: Megadeth
Reload vs. Cryptic Writings: Not only did Metallica present this 1997 record as a sequel to Load, they wrote a song called "Unforgiven II," an explicit sequel to the stellar "Unforgiven" from The Black Album. Inexcusable. Megadeth barely held their pedigree intact on Youthanasia but completely abandoned it on Cryptic Writings. So what we had was two thrash innovators unabashedly selling out. The difference? Megadeth at least wrote a few good songs in the process: "Use The Man," "The Disintegrators" – both good, heavy tunes. Name a good tune on Reload besides "Fuel." Marianne Faithfull sang on it for fuck's sakes! Megadeth take this one not because Cryptic was solid – far from it – but because Metallica basically forfeited. Winner: Megadeth
St. Anger vs. Risk: To call one of these albums a "winner" insinuates at least one good quality. Mustaine forever embarrassed Megadeth fans by writing a sports-arena anthem ("Crush 'Em"), and James Hetfield, Lars Ulrich, and producer Bob Rock forever embarrassed themselves by apparently forgetting to mix the drums. I cannot, in good conscience, appoint one of these albums a winner, for they are both huge runny piles of doo.
The winner, by a count of four to three, is Megadeth! Feel 'Tallica were cheated? Keep in mind, Megadeth have released two albums (The System Has Failed and last month's United Abominations) since Risk that absolutely destroy St. Anger, Load, and Reload, but don't get mentioned here because the matchups are chronological.
OUT NOW: Before High On Fire, before OM, even before Sleep, there was Asbestosdeath. Basically a rough draft (Al Cisneros, Chris Hakius, Matt Pike, and Thomas Choi) of Sleep, Asbestosdeath only recorded four songs – released on two separate 7-inch singles – that have long been out of print. Southern Lord unearthed them, though, for the Dejection Unclean EP. Hearing how one of stoner metal's titans got started is obviously interesting, but these tunes are rough. The signs of future potential are certainly here, though, especially on the punishing "The Suffering," but you're better off sticking to Sleep's Holy Mountain, or better yet, anything Pike has done with High On Fire. Speaking of HOF, the new record, Death Is This Communion, is scheduled for a September 18th release; the group play Otto's (DeKalb) July 27th and Subterranean the 28th . . . Don't get me wrong, I fuckin' love 3 Inches Of Blood's booze-swilling, swords-and-sorcery mentality, but the band's new record, Fire Up The Blades (Roadrunner), is a tough listen. These guys are really into classic metal, and I'm sure shrieker Cam Pipes (screamer Jamie Hooper is the other vocalist) wants nothing more than to pay proper homage to King Diamond, but on tracks like "The Great Hall Of Feasting" he's just plain annoying. Mainstream media are behind this (maybe because Slipknot skinsman Joey Jordison produced it?) 100-percent, and some have even had the gall to imply 3IOB are the next Priest or Maiden. Flavor Flav said it best: Don't believe the hype.
FINALLY!: After too many delays Superchrist's most recent, Headbanger, came out in June. Easily the group's best effort thus far, Headbanger is denim-jacket, spiked-bracelet, beer can-crushing metal at its best. Frontman/bassist Chris Black tells me to expect a triumphant Superchrist return to Chicago (he relocated to Michigan last year) sometime this summer.
Something to say? Try mosh@illinoisentertainer.com.
– Trevor Fisher
Category: Caught In A Mosh, Columns, Monthly