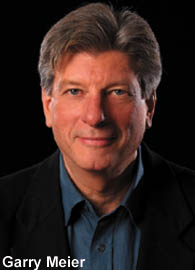 My parents, who divorced in 1972, will never get back together – they're dead. But now there may be hope for the pioneering radio duo of Steve Dahl and Garry Meier.
The pair's acrimonious 1993 split was partially mended last August when Meier made an impromptu appearance on Dahl's WCKG-FM (105.9) program. Last month, the station hired Meier to do mornings. Now, for the first time in 14 years, they both have shows on the same frequency.
Meier, who'd been off the air since his split with Roe Conn in 2004, says he's thrilled to be there. "It's the only all-talk FM station in Chicago aside from public radio. And that's what I do. If FM has a fighting chance against the new technology, this is it. "
Meier split with Conn after rejecting a deal at news/talk WLS-AM that was reportedly worth $12 million over 10 years. He was hired by WCKG-FM programming vice president Drew Hayes – also his boss back at WLS.
In the late 1970s, Steve and Garry got together doing "crosstalk" between their shows; it was such a hit they pioneered a freewheeling style of radio vérité that others have tried – and failed – to emulate.
Now there's at least the possibility of "crosstalk" between the two – though there's the little problem of timing; Meier is on from 8 to 11 a.m. and "The Steve Dahl Show" airs from 2 to 7 p.m.
"When I'm leaving to go pick up my daughter from school, he's just coming in," says Meier.
Perhaps they'll bump into each other in the hallway, and someone will have a microphone handy.
Dahl has tossed out the idea of a morning show featuring him and Meier, saying it would cost more money than the station could pay. His show has been far more caustic and engaging since Meier's return.
At press time Meier was still finding his footing. His sidekick is actor and frequent Illinois Entertainer writer Jim Turano, who contributed to Meier's solo WLUP-FM show in 1994 and appeared on shows hosted by Kevin Matthews and WGN-AM (720)'s Milt Rosenberg; he also hosted his own WMVP-AM weekend program in 1998.
"I've always had my hand in radio one way or another," says Turano, 43. "It's always been the ultimate dream of mine. I'm honored to think that Garry thinks I could bring something to the table."
That remains to be seen.
Still, Turano is also excited about being at the same station as Dahl. "I'm a Steve and Garry fan and always will be," he says. "And with them being at the same station, who knows what can happen?"
WETHINKS HE DOTH PROTEST TOO MUCH: Erich "Mancow" Muller's Foundation For Responsible Radio seems like some April Fool's prank, but it's no joke.
Mancow set up the group – which is calling for an end to "voyeuristic FM radio stunts" – after radio contestant Jennifer Strange died earlier this year from water intoxication resulting from a water-drinking contest on a Sacramento radio station.
Now, the shock-jock, who sports a "Free Speech" tattoo on his arm and made his name humiliating people, is asking listeners to report "voyeur" radio to him. "If you hear a show that is humiliating, degrading or putting their listeners in harm's way we urge you to report them," he writes at www.founda tionforresponsibleradio.com. "We at the F.F.R.R. will then take the proper action which will include alerting the local police and the FCC. Yes, this sounds extreme but when weighed along side the life of a young mother there is no contest."
Excuse me, but isn't this the same Mancow who was plagued for years by indecency complaints lodged by David Smith of Citizens For Community Values Of Chicago? And didn't he pay tens of thousands of dollars in fines to get the FCC off his case?
It seems all that energy might be better directed towards getting back on the air in Chicago.
THERE GOES THE NEIGHBORHOOD: Last month the behemoth Chicago Tribune Co. was sold to local potty mouth real estate mogul Sam Zell.
The deal includes 11 leading daily newspapers, 23 television stations, and various news, information, and entertainment Web sites: The Chicago Tribune, cable network Superstation WGN-Channel 9, WGN-AM radio, and CLTV news are all part of the package. Tribune also owns the Cubs, which will be sold at the end of this season.
That possibly means one day the Cubs will no longer be seen on WGN-TV or heard on WGN radio – or play at Wrigley Field.
It boggles the mind.
It would be like State Street without Marshall Fields.
Like Steve without Garry.
Like Mancow without a Chicago morning show.
The Tribune will also sell its 25 percent stake in local sports cable channel Comcast SportsNet Chicago, which means that other outlets may now be able to carry the local 24-hour news channel, CLTV News.
It's currently carried exclusively on Comcast because of the Tribune Company's part ownership in Comcast SportsNet.
So most Chicagoans – those who subscribe to a competing cable company (or have no cable at all) – have not been able to get the station.
And who says consolidation hasn't benefited the consumer?
– Cara Jepsen