ALESIS
iMultiMix 8 USB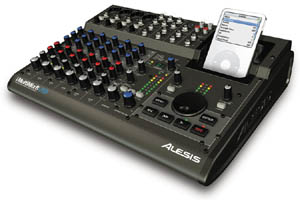 Alesis have come up with an impressive addition to their popular MultiMix series, spearheaded by the ingenious iMultiMix 8 USB, which features an iPod mounting dock that records directly to any second-through-fifth generation iPod. The transport controls and control wheel are built right into the surface for complete control of the iPod while it is docked in the mixer. Files recorded into the iPod are near-CD quality 16-Bit, 44.1kHz wav files. Both Mac OS and Windows users can connect to the iMultiMix 8 using USB inputs for direct-to-computer recording as well. In addition to its computer connectivity, the iMultiMix 8 USB offers eight analog inputs, 100 28-bit effects (including reverb, chorus, flange, and delay), 48V phantom power, and two switchable mic/line/guitar inputs. Steinberg Cubase LE recording software is also included. With a reasonable $499 suggested retail price, this iMultiMix could be considered a candidate for mixer of the year. For more info visit www.alesis.com.
NADY
USB-24M Microphone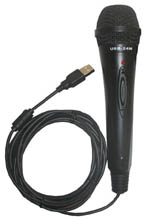 Nady Systems' USB-24M mic will come in handy for users of Apple's GarageBand and various computer Podcasting programs because it connects directly into any computer with a USB 2.0 (or higher) input for easy plug-and-play operation. With a 24-bit, 96kHz sampling rate, the Nady USB mic promises clean-and-clear cardioid tones for light-to-medium duty computer recording applications. Retail price is $69; visit www.nady.com for more details.
DIGIDESIGN
Reel Tape Suite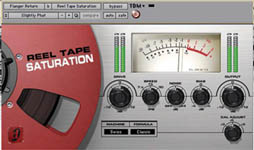 Those who've been around long enough to remember exclusive analog recording (when digital recording didn't exist) and Space Echo effects (before the era of analog and digital effects "racks") will get a good chuckle from Digidesign's Reel Tape Suite, a set of analog tape emulation plug-ins that aims to "re-create the warmth" of analog recordings and effects. Included are three plug-ins: reel tape delay and flanger that capture tape effect machines from the '70s, and reel tape saturation that uses analog tape machine modeling and formulation characteristics. For studio purists, analog is a religion that can't be recreated by a plug-in, but for the ProTools crowd, Reel Tape Suite is available now and priced at $495. An abridged, downloadable LE version is also available from www.digidesign.com for $295.
News & Notes
Our friends from the Texis Guitar Show are back again to show their wares (you can buy, sell, and trade) with some help from guitar dealers from all parts of the United States. This year's show takes place on May 19th and 20th at a new location: The DuPage Expo Center at 4050 E. Main Street in St. Charles.
Michigan-based Rebeats also bring their Drum Show to the Kane County Fairground on May 19th and 20th.
– David Gedge