At ARS STUDIOS in Alsip, local rockers Hunting The Rabbit mastered their album, This Just In, with Larry Schara . . . Gary Cobb has been restoring Stan Kenton masters for re-release on Tantara Productions.
The new Can You Dig It! by Chicagoland's Blue Plate Special, recorded at STUDIO VMR in Brookfield, has earned the 2006 Blues Band Of The Year award from Midnight Special Blues Radio. Recorded and engineered by Don Griffin and produced by Griffin and Ron Parizek, the album has so far produced seven number-one songs on blues radio worldwide.
At CARTERCO RECORDING in Chicago, Puerto Muerto are recording their next record.
At GALLERY OF CARPET RECORDING in Villa Park, The Rikters just released Don't You Get It! on Hey YOU! Records. It was produced by Brian Zieske and recorded and mixed all analog. Steve Rooke (Beatles, Wilco, David Bowie) mastered the project at Abbey Road in London, England . . . The Long Gone Lonesome Boys completed their next full-length release after months of tracking, mixing, and remixing. The record was tracked and mixed entirely analog with early country music production in mind . . . The Villains Of Verona started preproduction with Zieske for their upcoming full-length . . . The Mid Summer Derby started recording with Zieske. Their EP will be released early summer.
At GRAVITY STUDIOS in Chicago, The Most Dangerous Race mixed and mastered with Doug McBride . . . Company Of Thieves mixed some new tracks with Sean O'Keefe . . . Moxie Motive mixed their upcoming album with Manny Sanchez; Jay Marino produced . . . Apache Valentino, one of the winners of the "Free Studio Time" contest, recorded and mixed two songs with Mark Berlin . . . Aidas Narbutaitis started recording the new Like Dolls album . . . Shred Eagle began their new project with Dan Wean producing and George Balogi engineering . . . The new Cealed Kasket album is being mixed by Tony Madness under the direction of CK members Sarsicus and Rod Excelsior.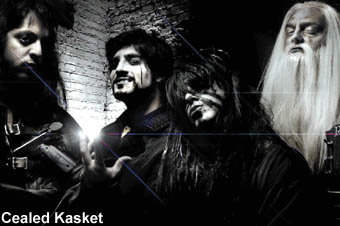 HANDWRITTEN RECORDING, a storefront recording studio, opened its doors in April. The Lakeview (1346 W. Belmont) studio was created with first-time recorders in mind. Handwritten keeps walk-in hours (no appointments needed!), and rates range from $25 to $95 per hour depending on your project. For more info, call (773) 472-7132 or visit www.handwrittenrecording.com.
At THE I.V. LAB in Chicago, Bound Stems (Flameshovel) began work on their next record with engineer Manny Sanchez . . . Cameron McGill recorded a new record with engineers Sanchez and Chris Harden.
At UP ON THE ROOF RECORDING in Lombard, adult contemporary singer Pat Schiller enlisted the talents of vocal group The Moods on songs for his new album . . . Pop rocker MER continued tracking . . . Jessica Wiseman recorded her new demo . . . Mitch & The Polecats tracked new tunes for their third album; Mark Blas engineered.
Hey Studiophiler: To get your studio or band listed in "Studiophile," just e-mail info on whom you're recording or who's recording you to ieeditors@aol.com, subject Studiophile, or fax (312) 930-9341. We reserve the right to edit or omit submissions for space. Deadline for the June issue is May 15th.
Category: Columns, Monthly, Studiophile