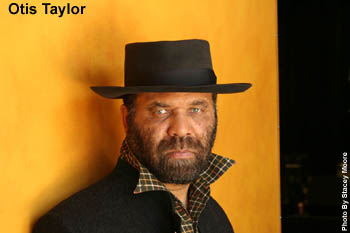 Otis Taylor was a surprise guest at last year's Chicago Blues Festival. I did not get a chance to hear his performance but had the pleasure of meeting him and his beautiful daughter, Cassie, backstage. I also had the opportunity to listen to a few tunes from Taylor's then work-in-progress Definition Of A Circle. I have been eagerly awaiting this release since.
There must be something about bluesmen named Otis. Not since Otis Rush has there been a musician who can raise the hairs on the back of your neck or send cold chills throughout your body. Whereas Rush combined soulful, impassioned vocals and minor-key guitar mastery to stir our emotions, Taylor's "trance music" employs diverse instrumentation (banjo, guitar, bass, harmonica, cello, coronet mandolin, and organ), edgy, haunting vocals, poetry, and storytelling to exorcise or evoke the pain of the blues.
Definition Of A Circle (Telarc) was released in February and is a rich musical tapestry comprising 12 songs, or "little symphonies," as I call them, with subjects that range from the personal to the political. As there is so much going on in each tune, it would have been helpful if Taylor had included lyrics in the liner notes, but ever the individual, he goes it one better by captioning each song with a recognizable blues theme. "Little Betty," the opening tune, is subtitled "A banjo player is seeking a married woman. The situation gets too hot and he decides to leave town." The intensity of the music and complexity of the lyrics belie the simplicity of the caption – "Hey Little Betty won't you bake a cake, you never know when Johnny's coming home/hey Little Betty won't you bake a cake, you never know when Johnny's coming home/out through the window and into the snow/ain't got no shoes, I got 10 miles to go." Guest guitarist Gary Moore adds wailing licks over Taylor's endless boogie beat.
"They Wore Blue" is a poignant, chilling reflection on Hurricane Katrina. Taylor describes his reaction to watching the disaster unfold on TV with the caption "While watching television coverage of the aftermath of Hurricane Katrina in the South, an African American man from the North wonders who will help." The song begins with bassist/vocalist Cassie's mournful, haunting refrain, "Oh, Katrina," while her father asks, "What would you do, if they wore blue/would you help them, help them too? /what would you do if you had food/would you feed them, feed them too?/what would you do if they wore blue/would you wear it, would you wear it too?" The mood of the piece changes from poignant and sorrowful to thoughtful as Taylor and the band go into an extended jazz instrumental that flows like a river. "Something In Your Back Pocket," or, "A doorman at a juke joint in the deep South tells a wild young man he can't come in," is a menacing rap, featuring Taylor on slide guitar and Moore on lead. Taylor takes on the role of the doorman, speaking to the young man, saying, "Hey, man just hold up, hold up, now/I know you've got something in your back pocket." The music reaches a fever pitch, and Taylor's muted voice adds to the menace.
Legendary harmonica ace Charlie Musselwhite guests on the bluesy "Looking Over Your Fence," where "A neighbor threatens to take a man's wife and land." But it is more complex than that, as Taylor threatens the man and repeats the refrain "Maybe we'll go to war."
Taylor is at his most personal with the gentle "Few Feet Away," "A lullaby from a father to his bi-racial child." But this is a different kind of lullaby than we're used to. A father tells his daughter that he'll be there to protect her, "If the sky fell down, and the moon went out/I'd just be a few feet away from you," but daughter has something else in mind when she replies, "Sometime, you know they wonder/sometime, you know they stare/sometime, you know they wonder/oh just tell them who I am," a refrain that is repeated with subtle phrasing throughout, indicating inexpressible sadness and a little anger on the daughter's part. Telarc label mate and jazz pianist Hiromi Uehara guests on the predominately instrumental "Long, Long, Life," or "Now that you broke my soul, I want to wish you a long, long life." Uehara and Taylor's hypnotic, dueling pianos, set the backdrop for cornetist Ron Miles and organist Brian Juan. The tension rises to fever pitch.
Definition Of A Circle is Taylor's third release on Telarc (Below The Fold and Double V are the first two), and his eighth release overall. Much like Jimi Hendrix, who took the blues into the stratosphere, Taylor continues to expand the genre, mining the deepest of human emotions along the way.
REISSUES: Johnnie Taylor – Live At The Summit Club was recorded 35 years ago during the historic two-day Wattstax concert at the nearby Los Angeles Memorial Coliseum. Taylor was scheduled to appear at Wattstax but balked at the last minute when Isaac Hayes garnered the coveted closing slot. The subsequent club gig yielded a questionable performance by Taylor's hastily assembled nine-piece unit, who often seem at a loss to follow the leader. Taylor handles the situation like a pro, however, gently admonishing the band without distracting the flow (unlike another Stax notable, Albert King, who could get downright nasty with his musicians onstage). This obviously unrehearsed set works, despite its many flaws, because of Taylor's musicianship and his mastery of the situation. He humorously improvises the line in "I Don't Want To Lose You" from "Johnnie, you don't have no heart attack, man. What you got is a love attack," to "What you got is a band attack."
– Beverly Zeldin-Palmer
Category: Columns, Monthly, Sweet Home