Kaiser Chiefs
Vic Theatre, Chicago
Friday, April 20, 2007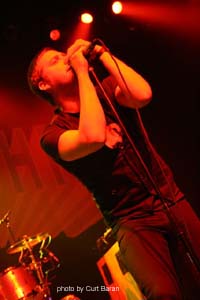 When Lollapalooza was baptized as a yearly Chicago event two summers back, some of the best surprises were the lesser known bands who handed in stellar sets. Case in point: Kaiser Chiefs from Leeds, England.
Already superstars in their native homeland for some time now, the five-piece band brought their reputation for raucous, energetic live performances to a sold-out Vic Friday night. Even England-based music publication/tastemaker NME are so on-board they underwrote the tour as a sponsor, taking their normally untethered hyperbole to new heights.
At the show's onset, lead singer Ricky Wilson bounded onto the stage, equal parts bloke-at-the-far-end-of-the-bar and over-caffeinated toddler. His energy and enthusiasm would not ebb for the duration of the somewhat stingy 70-minute set.
On the Chief's debut (Employment) and their equally excellent sophomore effort (Yours Truly, Angry Mob) the quintet execute arena-ready choruses, hooky "whoo hoo hoo" bridges, and marry them to tales about juvenile nightlife, suburban ennui, and cast them as compelling theater long before Arctic Monkeys scored a record deal.
Granted, their musical approach is almost a rock 'n' roll cliché. But on songs like "The Angry Mob," "Ruby," "Modern Way," and "Highroyds" Wilson sold his cause with undiminished earnestness and his bandmates played with the intensity and aplomb of a rugby scrum trying to reach the last row of the football stadium. And they reached their apex during older songs like "I Predict A Riot" and "Oh My God," as the faithful in attendance simply created their own solos by taking over verses in their entirety.
Just before the end of the set, Ricky Wilson swam a sea of outstretched arms and landed in the middle of an adoring audience. As he introduced the members of his band, a broad smile spread across his face reminding everyone rock 'n' roll doesn't always have to be the serious art form it has sometimes become in the past decade. In its genesis, it was there because, simply put, it was fun. If Kaiser Chiefs believe this is the way to seduce the States, their performance on this night might prove them right.
— Curt Baran
Category: Live Reviews, Weekly