Megadeth
Angry Again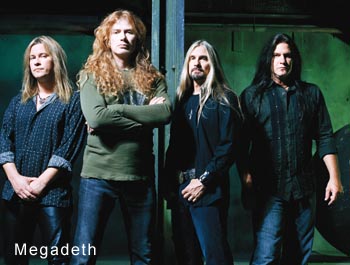 No Metallica. No Ellefson. No religion.
These were the ground rules laid down for the Illinois Entertainer prior to our interview with Megadeth founder/frontman/guitarist Dave Mustaine.
Appearing: May 5th at Allstate Arena in Rosemont.
Disappointing, to say the least. It is those topics, not his musical output, after all, that have kept Mustaine in the public eye during the last decade. In early 2002 Mustaine seriously injured his arm and was diagnosed with radial neuropathy; at the time it was unknown whether he would ever play guitar again. The events that followed, in no particular order, included the disbandment of Megadeth, an ugly falling out with bassist David Ellefson (the only other original member) that resulted in even uglier lawsuits, and Mustaine becoming a born-again Christian. Megadeth released a surprisingly solid comeback, The System Has Failed, in 2004, but it was overshadowed by Mustaine's appearance in the the Metallica documentary Some Kind Of Monster, where the one-time 'Tallica guitarist purged himself of his feelings toward his former band during a sit down with Lars Ulrich.
But Mustaine won't touch these subjects, we're told. "Dave wants to focus on talking about the new CD and tour," Megadeth's publicist wrote us the day before our scheduled chat. Luckily, that new album, United Abominations (Roadrunner), is truly worth talking about. And as Mustaine proves when IE reaches him at home during downtime between the first and second leg of the Heaven & Hell tour (Megadeth are direct support), he's bubbling with enthusiasm.
Dave Mustaine, titillated?
"I think that we're, well, I can tell you my vibe: I'm pretty excited," Mustaine says between bites of lunch. "As far as being focused, and doing what I believe to be my second technically perfect record, it was something that rivals Countdown [To Extinction] as far as the vibe that was there making this record."
Besides being "technically perfect," Countdown To Extinction happens to be Megadeth's most popular album, entering the Billboard Top 200 at number two in 1992 and selling more than 2 million copies to date. Needless to say, this is a lofty comparison.
"I myself knew I was onto something when I was making Countdown, and during the production of [United Abominations] I felt the same thing too," he explains. "I don't know if the Internet is going to hurt or help this record, but I know I made a really good record on this one, and I hear all the individual contributions outside of what I'm limited to doing, and I just think 'God, I'm playing with some wonderful musicians right now.'"
Those musicians are guitarist Glen Drover, Glen's brother Shawn on drums, and bassist James LoMenzo (ex-Black Label Society, White Lion), and if Abominations is proof, they've obviously helped Mustaine recapture the fire that made him a heavy metal icon and architect of American thrash. Is Abominations truly on the same level as Countdown? No. Nor will it be mistaken for Peace Sells . . . But Who's Buying? or Rust In Peace. But those are classics.
What United Abominations is, though, is a piece of work worthy of a spot next to those albums in the Megadeth catalog. And for a lot of metalheads, that's all we wanted as we suffered through uninspiring, Megadeth-lite efforts like 1997's Cryptic Writings, '99's disastrous Risk, and 2001's The World Needs A Hero. "Sleepwalker," about the heinous acts one's mind commits while fast asleep, "Never Walk Alone . . . A Call To Arms," and "Play For Blood" are undoubtedly Megadeth: riff-first slabs of metal laced with blistering solos and smothered with Mustaine's distinctive sneer.
— Trevor Fisher

To find out more about Mustaine's reincarnation, find the May issue of Illinois Entertainer, available throughout Chicagoland.