JJ Grey & Mofro
Ain't No Place Like Home
When speaking with JJ Grey, you're not likely to hear this proud Floridian call himself an activist. But since dropping the Blackwater album in 2001 with his band Mofro, this singer-songwriter has stood up for the oft-forgotten residents who dwell in the swampy outskirts of his native Jacksonville. He also paid tribute to the land itself, and does now even moreso on his and Mofro's latest, Country Ghetto.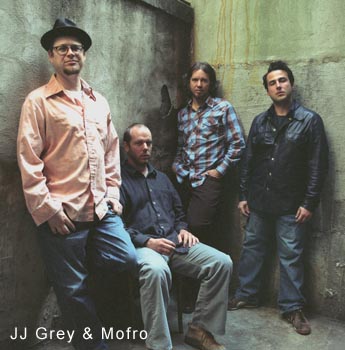 Like the great storytellers he grew up listening to, whether Stevie Wonder or swamp rocker Tony Joe White, Grey wants to share a slice of the place he still calls home — where the wild hogs and gators roam free. But amid his observations of big business enterprises invading rural Duvel County on songs like "Turpentine," Grey doesn't claim to be an activist.
"With regard to Florida, the place that I grew up in proceeds as one way and it's not my job to change it," he says wholeheartedly. "I'm not trying to change it, I'm not trying to champion anything. And I figure a whole hell of a lot more than half the stories [have] never been told, so I just really wanted to think about the people I love, the place I love, and things I do about it. And then I'll continue to do that. I don't know what else to write about. I don't know how to write songs that don't mean anything to me anymore."
Looking back to Mofro's debut, Blackwater, there are plenty of jam band moments to be found that are more driven by the freewheeling jookhouse funk of Grey, guitarist Daryl Hance, and company rather than any particular topic. "We had 'Ho Cake' and 'Jookhouse,' which were really uptempo fun, kind of funky songs," recalls Grey. "And you don't try to be the party — those songs wound up being that way just on accident."
Grey hasn't lost his appreciation for the aforementioned jams, yet his favorite track from that record, "Brighter Days," was also the most personal. This bittersweet song captured Grey at a delicate turning point: "I am hopeful for where I'm goin'/but I belong in the South/That was where I's born a po' boy/livin' life like there's no end in sight."
With a nudge from friend and Mofro producer Dan Prothero, Grey began leaning towards this more introspective style of songwriting on the group's next album, Lochloosa, and especially on Country Ghetto. "[Prothero] was like, 'The personal side of it is where all the strength is,'" says Grey. "He gravitated towards all the songs that I personally had something really invested in the lyrics, and that's why the songs wound up on [Country Ghetto] like they did."
Thus there's not one moment on the band's new album that doesn't touch on issues dealing with his family, friends, or locale. The chunky funk of "By My Side" is complemented by Grey's dedication to his wife's loyalty while the upbeat, harmonica-laced title track sees Mofro's frontman defend his humble upbringing without shame.
What hasn't changed for Grey is the way he composes music. Granted, this time around the process paid off better on effortless compositions like "The Sun Is Shining Down" — a bluesy ode to life's awe-inspiring moments. "I start with music and then I come up with melody, and then if that music and melody sounds like me [that's] what inspires lyrics," he explains. "And I try to do it with as little thought as possible. A song like 'The Sun Is Shinning Down,' it just all came to me at once while I was sittin' there in the RV when we had just played a festival a couple years ago. We were on our way home and the whole thing came and it was done in a few minutes."
If something isn't working for Grey, he's likely to can the idea before he begins forcing something that's not there. "I've learned to let go and let songs write themselves so to speak," he says. "I just feel like I learned how to try and get out of my own way like with a song like 'Brighter Days' and sort of let it happen."
Perhaps it was this instinctive spirit that helped attract Bruce Iglauer of Chicago's legendary Alligator Records to Grey and Mofro. Given Alligator's reputation for releasing primarily traditional blues, Iglauer's label took a chance by putting out an album as genre-breaking as Country Ghetto. Grey is well aware of this, yet he also knows the blues aren't as easily defined as some my think.
"We all know [the blues] is more of a spirit, it's more of an attitude," says Grey. "Bluegrass is blues. Reggae — there's plenty of reggae that's bluesy — super bluesy. Bruce and all the guys at Alligator are really hip to that — the idea that it doesn't have to be blues. It doesn't have to be one-four-five, 12 bars of progression on a guitar slinger. It can be, and a lot of times it's great. It is. But it doesn't have to be. It can be a lot of different things."
JJ Grey And Mofro's music is now being marketed as "front porch soul" — an apt description for a group heavily rooted in a stew of Southern musical traditions. Despite carrying a wide array of influences, Grey and Mofro aren't trying to be groundbreaking. In fact, they want to offer listeners something that's somewhat recognizable.
"There's plenty of people my age that are familiar with the sound that Mofro has," offers Grey. "It's not like nothing new. I never claimed that it would be. That'd be ridiculous. The idea of 'new' is too hinged on technology to me. The idea of what people like to term 'originality' isn't original at all to me in a lot of ways. Originality is just telling your story."
Given the trajectory of Jacksonville, Grey's originality stands to be all the region has left.
— Max Herman