Bebel Gilberto
The Parent Trap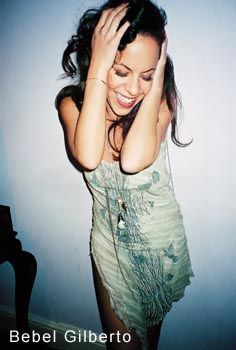 Bebel Gilberto speaks with the same soft, sensual cadences she uses when she sings — that graceful blend of sun, urbanity, and rhythm that turns the familiar into something exotic and the exotic into something intimate. Given Gilberto's singing style, this is probably to be expected (or, if you're male, fervently hoped for). Gilberto's vocals harken back to the early-'60s heyday of bossa nova/jazz without losing sight of the present. Gilberto has the voice of a woman who has been through it all and loved every, single minute of it.
Update: The May 14th and 15th dates at Black Orchid in Chicago have been rescheduled for June 24th at Park West.
Gilberto first sang onstage when she was seven, but didn't release an album for another 13 years. In 2000, at 34, she released Tanto Tempo. This alternate debut album mixed the cool languor of classic bossa nova with the innovation of electronica. The result was beautiful and exciting. Hailed as everything from "a lifestyle necessity" to "the perfect introduction to the modern wave of bossa," Tanto Tempo became the third best-selling Brazilian album in U.S. chart history. Her self-titled, "second" album was more acoustic and traditional. The sound of a growing artist integrating her roots, it earned Gilberto her third Grammy nomination. Now Gilberto returns with Momento, an album that continues her growth as a songwriter and stylist. A mesh of her previous two albums with further additions of samba and pop, it is an album bursting with confidence, sung with sultry power. So commanding is Gilberto, she covers Cole Porter's "Night And Day" like she was born to do it.
"I had to believe in myself, especially 'Night And Day,'" Gilberto says. "I had the vision and I had the arrangement in my head that I wanted to do. I must say that I never had so many friends of mine begging me not to do that. They were like, 'You're crazy. You're shooting the foot. Don't do that. Don't mess around with American standards.'" She laughs. "And I was like, 'Why not? I've been listening to Cole Porter since I'm 14-years old, so I know what I'm gonna do.' And I did it. I am super happy because I've been hearing very good things about it and especially when I'm speaking to Americans. That's more important. Did you like it?"
Yes, very much. But when I saw it listed on the cover, my eyebrows went up.
Gilberto laughs again.
"I know, I know. I was crazy, right?" She replies. "But it was very courageous."
Gilberto is courageous simply, perhaps, because she had no other choice. Whenever people write about Bebel Gilberto, her parents are mentioned: her father João Gilberto; her mother, singer Miúcha; and her stepmother, Astrud Gilberto. Those names are usually dropped into the piece as shorthand for the startling musical history they signify.
João Gilberto and Antônio Carlos Jobim were the pioneers of bossa nova, a style of music that rose in the '50s and reflected the modernization of Brazil. Its impact in the early '60s on the rest of the world — and American jazz, in particular — was tremendous. João Gilberto's "The Girl From Ipanema," sung by Astrud, is considered the bossa nova standard, while the album João Gilberto made with Stan Getz, Getz/Gilberto, is often cited as the defining LP of the genre. At age nine, Bebel Gilberto performed with her mother, Miúcha, and Getz at the Newport Jazz Festival.
But what's fun at age nine can be less so as you get older and try to establish an identity outside of "somebody's daughter." At a certain point, Gilberto had to move away. She went to New York.
"It's hard, you know, with the whole legacy from my parents and everything," Gilberto says. "And [then] moving to New York and dealing with everything that I had to alone here when I had the red carpet treatment when I was living in Brazil as the daughter of my father. It changed my music. It changed everything. I wish I knew when I was younger that [my own success] was going to happen, because then I wouldn't be so — ah — a bit self-destructive. But life is funny, because it makes things happen to you always in an interesting way. You can't control life. Life is life."
— M.S. Dodds
For more on Gilberto's escape from history, grab the May issue of Illinois Entertainer, available free throughout Chicagoland.