Nachtmystium
Cosmic American Black Metal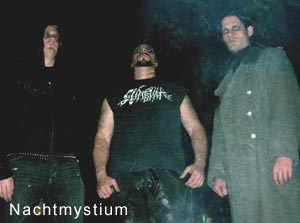 In determined, jagged strikes, the young girl slashed her own skin with a razor blade she had smuggled into the all-ages show. As blood and consciousness escaped her, she collapsed onto a floor of broken glass. Her salvation came not from the band she showed up to worship, but from paramedics in the back of an ambulance.
Appearing: 5/10 at Empty Bottle (1035 N. Western Ave.) in Chicago.
This is the side of black metal Blake Judd would like never to see again.
"We see them all the time, especially in California," says the Nachtmystium frontman from his apartment in St. Charles, describing a nightmarish Orange County gig. "You get these, like, 19-year-old kids in there whose arms look like cutting boards. I mean, they've had thousands of stitches."
Despite the demonic bark of his singing voice and the violent wreckage of his live guitar, Judd was just trying to entertain a crowd when near death gushed out in front of him. For Nachtmystium, the fan's self-mutilation showed a subculture gone sour. "It was just one of those weird situations with a scene that we really hate, and we're just trying to get away from it," he says. "It was fucking ridiculous. To a certain degree, there's that age and that willingness to try to prove to everybody around you that you're a madman or that you're a lunatic. It can spawn some pretty dangerous people."
Judd was 17 and growing up in Wheaton in 2000. By then, the second wave of Norwegian black metal had landed Stateside on the infamy of Darkthrone and Mayhem, two bands whose stark imagery and desperate howls would become the early template for the genre's next wave. Black metal was then a loose secret, obtainable through mail order, tape trading, or the occasional box behind the record store counter. This insular, misanthropic Scandinavian music found its way into Judd's suburban U.S. bedroom, and Nachtmystium were born under its influence. From corpse paint to pseudonyms (for six years, Judd went by the name Azentrius), the band borrowed heavily from their European idols. But in April 2005, Judd moved away from his hometown and took black metal along for the ride. In many ways, the genre hasn't been the same since.
On the upcoming split CD/LP with Leviathan (Southern Lord), Nachtmystium continue the psychedelic aspirations of 2006's Instinct: Decay (Battle Kommand). "Worldfall" is a seven-minute astral rock projection built on basic riffs, an overdubbed choir, and uncharacteristic space between beats for lead-guitar tinkering. "We left it that way with the intention of going nuts on top of it," Judd says. Defying their own rules, Nachtmystium carefully employ Moog synthesizers in shuttling their vision. They've long shunned keyboards, but Judd's desire to grow transcends all dogma. The flood gates are open. Influences now include The Grateful Dead and The Allman Brothers Band. "Jam bands," he laughs.
"Now that I'm a little older and I'm not so fixated on the idea of being a black metal band like I was when I was 17, I'm letting all that stuff come through. And I'm also realizing that it's a great way to be creative. It's kind of uncharted waters. And that's kind of cool to feel like a pioneer in that regard."
In a U.S. black metal scene comprising most notably one-man bands and studio projects, it might be hard for Nachtmystium not to pioneer. Bands like Xasthur, Leviathan, and Agalloch can't or won't tour regularly. Nachtmystium are happy to fill the public void. "That's what our saving grace is," he boasts. Well, that and invention, which Judd says is synonymous with U.S. art. "In Scandinavia, everybody takes music theory [in school]. And so when you're raised in this system that teaches you music methodically as opposed to someone like me, who just, like, got a guitar when I was 13 and started dicking around on it when I was stoned — it's a whole different approach." In relaxed confidence, he defines this new American music: "It's free. It's patriot rock."
As the band launch into trippy material like "Worldfall," there is an alter ego lurking below — a cutlet for the purists, a music for the road. "Depravity" mauls like Transilvanian Hunger-era Darkthrone with drummer Jean Graffio ravaging his kit in blastbeat buildup. Judd rips, "I will show you the path to eternal life!" — and suddenly, queasy tremolo picking burrows deep into a four-chord groove. Whiz-kid pedalwork is kept to a minimum. Judd explains the furious throwback: "The cool thing about it is that I have that stuck in me forever. I'm always going to like that good, raw music." In a sense, "Depravity" is his bread and butter. Nachtmystium are a live band, and Judd says they don't want to record music that is too complex to bring to the stage. They play a balancing act between art rock and Death To Art Rock, mirrored in the band's culture-clash live crowd. "I like not having a job," he says, "not having to deal with day-to-day bullshit, and being able to do my little label and my band."
Judd's apartment serves as a home for his label and metal distro, Battle Kommand. When Nachtmystium tour independently, he packs up Battle Kommand, takes the online store offline, and crams everything into his van. "I'll bring, like, 5,000 CDs with me and set up a huge, 14-foot merch table every single night," he says. The profits cover rent and the label's manufacturing costs. "It allows me to have a really, really lax situation here at home, where I can just, you know, sleep late, stay out late, do what I want, and I'm never too stressed out about anything."
Judd has learned a few tricks of the trade from his relationship with Southern Lord, the label in charge of distributing Instinct: Decay and five other Battle Kommand titles. Southern Lord move Instinct: Decay along to Caroline, who in turn bring it to retailers. The entire supply chain is gearing up for a retail resubmission of the album this spring. Instinct: Decay is one-year old this month, but it's coming off a vapor trail of year-end accolades from Pitchfork, Decibel, and others. "It's weird, man," Judd says. "[We've] gotten more interest in the last three or four months than before, even."
Actually, the shift started well before the end of 2006. A May 2005 cover story in The New York Times Magazine examined the rise of "heady metal," a term used to describe drone metallers Sunn O))) and their label, Southern Lord. Several of Judd's peers found ink in the article. Nachtmystium weren't mentioned, but two U.S. tours with Sunn O))) in the months that followed helped Nachtmystium recruit a new kind of fan.
"We call them 'the bearded crowd.' You know what I mean?" he laughs. "It's nice to meet people that are like, 'Yeah, I like black metal, but I also like Sonic Youth.'"
Some longtime fans cry sellout, but Judd doesn't flinch.
"The fact that we've kind of strayed away has weeded out a lot of these extremist black metal idiots. Because if you met the four of us, we're the last dudes in the world you would think were in a black metal band. If you didn't look at our T-shirts, you wouldn't know. We're like hippies. We're totally cool with everybody."
Unless, of course, you're bleeding. That, they're not cool with.
— Mike Meyer