Shadows Fall
Full Speed Ahead
"Loud. Loud and sloppy, but it's all good"
This is Shadows Fall bassist Paul Romanko's account of the group's just-completed sound check at Myth Nightclub in St. Paul, Minnesota on March 23rd, the first day of the Stone Sour-headlined Jägermeister Music Tour. Shadows Fall, along with Lacuna Coil, serve as openers, and if Romanko seems overly excited about something as mundane as sound check, it's for good reason: His group, as hard-working of a live act as there is in heavy metal, hasn't toured in some time, and, if Romanko's enthusiasm speaks for the rest of the band, they're chomping at the bit.
"We've been off since last summer, which has been about the longest layoff we've had as a band, so we're actually kinda geared up and ready to go," he admits. "We're not all worn out and broken down at this point, you know? So it's awesome. We're psyched."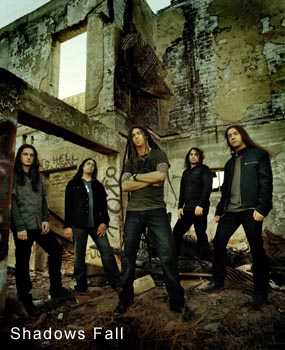 Other factors, though, also make this tour (which ran through April and concludes May 4th) special for the Massachusetts band. First and foremost, it's their first day-to-day opportunity to play material from their new album, Threads Of Life, that was released April 3rd. Oh yeah, it just so happens to be the Shads' first album for major label Atlantic, who scooped the five-piece up after their contract with indie Century Media expired.
No big deal, right? No pressure at all.
While it would be great to think Atlantic signed Shadows Fall to add some real metal to a roster whose biggest names include The Streets, Missy Elliott, James Blunt, and Gnarls Barkley (yes, Metallica were intentionally excluded here), the truth is, the label knows Shadows Fall can move units. They proved it with 2004's acclaimed The War Within, a record that debuted at number 20 on the Billboard chart (number one on Billboard's Top Independent Albums) and has sold more than 300,000 copies. If a thrash band are capable of those kinds of numbers with the limited resources of an indie, the folks at Atlantic surely believe they have the firepower to push Shadows Fall into Gold Record territory.
But if he and his bandmates (guitarists Jon Donais and Matt Bachand, vocalist Brian Fair, and drummer Jason Bittner) are feeling more pressure now they've been called to the big leagues, Romanko isn't confessing.
"Honestly, I don't know if we're just stupid or we're selfish or what, but we don't look at it that way. We don't care," the bassist says. "As long as we're happy that's really the most important thing. We've really kind of been lucky in getting away with doing things our way a lot in our career, and that's kind of what our first approach is.
"Of course we would love to sell records and have people love the music, but if you don't love it you're not going to be able to sell it when you put it out onstage. It's all about getting us excited first and foremost."
So the band are excited. Fans likely will be too — especially those who worried/thought/swore/insisted the move to a major label would dilute the Shads sound, a direct descendent of both '80s American thrash and '90s Scandinavian death. "Sell-out" accusations ("We heard that back when And One Blood [the band's second — first with Fair — record] came out," Romanko says, chuckling) are flimsy in the face of songs like "Forevermore," "Redemption," and "Failure Of The Devout," all of which would fit nicely on either War Within or 2002's The Art Of Balance. In fact, of the most significant indie-to-major metal bands — Mastodon, Avenged Sevenfold, Lamb Of God — who have released records in the past two years, Shadows Fall stick closest to the style (a combination of scream/clean vocals, dizzying speed, and a perplexing guitar attack) that established them.
"I think we kept it pretty much the same in our mentality," Romanko says. "Plus this is our sixth studio album, so it's just another album. It was done at a different place — we were out in California in the sun instead of in the snow in Massachusetts — but other than that it was the same old deal: Go in, hack it out, get your best performances, and then see what the pieces are."
The biggest change from War to Threads, in fact, wasn't how the band got those performances, but rather who oversaw the process. Nick Raskulinecz produced the record, marking the first time since 1998's Somber Eyes To The Sky, their debut full-length, someone other than Zeuss had been at the helm of a Shadows Fall album.
There was no falling out between Zuess (he did mix the record) and the Shads; no arguments about pay; no "creative differences." And most importantly, the group didn't get too big for Zeuss once Atlantic came knocking. In fact, it was the producer himself, a longtime friend of the band and Romanko's former roommate, who suggested the change.
— Trevor Fisher
To find out more about the genesis of the new album, find the May issue of Illinois Entertainer, available free throughout Chicagoland.