Jonatha Brooke
Old Town School Of Folk Music, Chicago
Sunday, April 29, 2007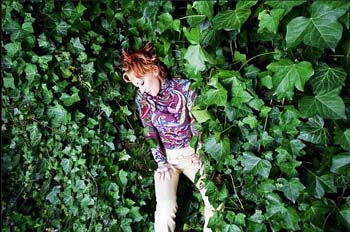 Without trying to assume too much about Jonatha Brooke's fanbase, one can only assume they were scared shitless when they learned she had collaborated with Nick Lachey and J.C. Chasez prior to recording this spring's Careful What You Wish For (Bad Dog).
Being Chicagoans, we can sympathize. We watched Liz Phair uproot and head for the Sunshine State, plainly stating her intentions by teaming up with The Matrix. Placement in WNBA commercials and the revelation Phair's label had to lobby radio stations with gifts in order to play her songs have diminished her to the point of irrelevance.
Brooke's sixth solo studio album isn't a total disaster, though it doesn't at all reveal the quality she usually has in spades. The sessions with the teen pop set were viewed more as an exercise by the songwriter (though Chasez contributes backing vocals to two tracks), and, despite her left-field admiration for Jessica Simpson's woes, Brooke won't be Daisy Duking your local Blockbuster in a straight-to-video Dukes Of Hazzard 2.
But Careful is a rather big-sounding album for someone who frankly sounds better small. The title track has a little Tori Amos instability to it, but the blustery "Beautiful Girl" sounds like she's paying lyrical tribute to Britney Spears without any care for her own well-being. The grimmest aspect of the first half is how much it sounds like someone without Brooke's chops trying to emulate her. The themes are familiar (stupid me, stupid girl, stupid boy), but there's none of the acumen of 1995's Plumb or 2004's Back In The Circus. Everything's squarely in the middle.
The exception is "Prodigal Daughter," a rueful take on the Biblical parable in keeping with the album's recurrency of tragic figures. They, like Brooke, apparently have no appreciation for history.
— Steve Forstneger
Category: Stage Buzz, Weekly