Timbaland
Timbaland Presents: Shock Value
(Interscope)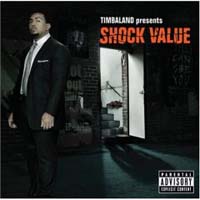 First Handsome Boy Modeling School, then Pharrell, now Timbaland? What's happening to the country's top producers?
Shock Value contains nothing but one failure after another — with the possible exceptions of "Come And Get Me" with 50 Cent and Tony Yayo and Kubrick-esque "Miscommunication" featuring Keri Hilson and Sebastian. There was a popular theory thrown around the Internet when Jay-Z's flaccid comeback was released, suggesting Timbaland saved all his best beats for Justin Timberlake's album.
He certainly didn't keep any for himself, and has shockingly made JT an oasis in an arid hip-hop desert. From the limp-dick saccharin of "Apologize" to the lame-ass calling out of producer Scott Storch on chart-topping single "Give It To Me," Timbaland is as sturdy as corkboard. Failed experiments with rock bands (She Wants Revenge, The Hives, Fall Out Boy) are understandable and Elton John ("Man Show") should have left his foray into rap with Eminem at the VMAs.
But even Timberlake can't save a forgettable strip-club ode featuring Dr. Dre ("Bounce"), and there's an inexplicable, 1998-like devotion to the vocoder on "The Way I Are." Elsewhere Timbaland just sounds like he's doing what he thinks a Timbaland release should sound like. Where he's wrong in that regard is the everyday Timbaland leads the pack — he doesn't trace steps.
2
— Steve Forstneger