Little Man
Martyrs', Chicago
Saturday, April 28, 2007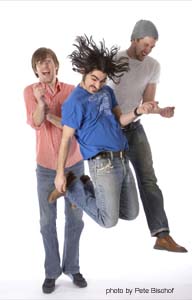 Fresh off a Minnesota Music Awards nomination for Rock Group Of The Year and a slot at South By Southwest in Austin, Little Man heads back to Chicago after an eight-month absence and lives up to its name.
Standing like a miniature Rick Danko, frontman Chris Perricelli puts on his best Jack White screeching howl and dons some terrific Svengoolie facial hair. T. Rex influences show up on the trio's third release, Soulful Automatic (Eclectone), but the spray of glitter gets suffocated by a drenched-in-denim '70s sound.
Chicago native and DePaul graduate Perricelli, along with Minnesotans Ryan Otte (drums) and Ben Foote (bass), conjure Jet on "Shag If You Want To" and add Beatlesque harmonies to "California Baby." The album's 12 tracks are rife with guitar buzz and foot-stomping barn burners.
Perricelli claims his music comes from his Zen state of mind and wears the teachings on his sleeve . . . er in his pockets. The guitar slinger is known to pull three stones representing love, communication, and creativity from his person for anyone willing to hear the story.
Little Man formed in 1998 while Perricelli attended school, but recently headed north to St. Paul after meeting the love of his life one night on the road, while working as a guitar tech for good friend and fellow Chicago scenester Ike Reilly. Perricelli never looked back.
Little Man play an early show at Martyrs', separate from the Cealed Kasket performance at 10 p.m.
— Janine Schaults
Category: Stage Buzz, Weekly