Tub Ring
Beat Kitchen, Chicago
Friday, April 27, 2007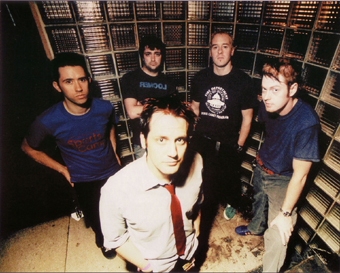 The remedies for ridding your bathtub of tub ring, the nasty, often orange, water mineral stains left by shampoo bottles that sit in one place too long, vary depending on whom you talk to. Besides the countless cleaning products available, lemon juice, vinegar, and mesh pads (not steel wool – it'll scratch the enamel) are a few suggestions. Getting the band Tub Ring's music out of your head? A bit more difficult.
Too many rock bands try way too hard to be "weird" and "different." It might be hailed by some critics and fans as brilliant, but that's only because it's so left field they figure it has to be great. In reality, it's boring, droning, and endless — overkill. The bands who do weird best are those who do it effortlessly, bands like System Of A Down, Faith No More, and Sonic Youth (who really fit in both categories) who never sound like they are laboring to go against the grain. Chicago's Tub Ring are one of these groups, and like SOAD, FNM, or Sonic Youth in their prime, they do it with an acute pop sensibility. The Great Filter is their sixth record and first for The End Records (the band's previous three albums were released through Martin Atkins' Underground label), but that number, along with the fact Ring formed in 1992, is a bit misleading because back then the group were a straightahead punk act. It wasn't until 2001's Drake Equation the band seriously embraced their inner schizophrenia. It's probably no coincidence it was produced by former Mr. Bungle guitarist Trey Spruance. Two more efforts were recorded between that and *Filter* (Fermi Paradox and Zoo Hypothesis), but this most recent has to be considered the band's best. No one song from The Great Filter is the same, "Wrong Kind Of Message" has emo vulnerability, "Killers In Love" finds vocalist Kevin Gibson screaming his way through a razor-sharp hardcore chorus, "Glass Companion" rides a bouncy piano loop, and "Get Help (NOW!)" is gnashing industrial with death-metal vocals, yet all have one uniting trait: an extraordinary ability to stick in your head. Tub Ring do catchy just as well as they do challenging; something their peers should take note of.
To celebrate The Great Filter's release, Tub Ring will headline two shows Friday night. The first is a sold-out, all-ages gig with openers Foxy Shazam, The Show Is The Rainbow, and 3-2-1 Activate! The late show (10 p.m.) is 21 and over with openers Brilliant Pebbles and The Show Is The Rainbow.
– Trevor Fisher
Click here to download Tub Ring's "The Promise Keeper." http://www.tubring.com/music/Tub%20Ring%20-%20The%20Promise%20Keeper.mp3
Category: Stage Buzz, Weekly