Static-X
Nu World Order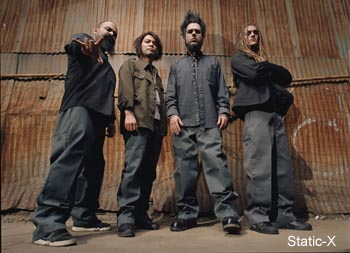 The voice on the phone reminisces about living in Chicago, partying at Medusa's, befriending the keyboardist of Ministry, and selling 1 million copies of an industrial-influenced metal album released in the 1990s. But it's not Al Jourgensen talking. It's Wayne Static, the frontman of Static-X.
Appearing: May 23rd at House Of Blues in Chicago.
Surprised? Nu metal isn't so new, you know.
"I still look back to that sort of early-industrial, Wax Trax! sound for inspiration today," says Static from his current home in Los Angeles. The Michigan native moved to Chicago in the mid-'80s to bask in the city's synthpop scene. His old friend Doug Chamberlin was then a touring member of Ministry. It was the era of "Everyday (Is Halloween)." For Static, the club hit became a lifestyle.
"That early stuff — they didn't have any idea how great it was. To this day, Al Jourgensen completely denies his past. And it's like, 'Dude, don't deny your past. You created some awesome shit back then.'"
Static moved to California in 1994 "for the weather, really," but the cold bite of his guitar can be traced back to the transitional days of Chicago industrial — when dancefloors became war zones, and dance music could mean Depeche Mode or Revolting Cocks, depending on the DJ. On their fifth studio full-length, Cannibal (Reprise), Static-X honor the aggression of industrial metal with a nod to the keyboards that gave the genre legs to begin with.
"That's what makes us not just a metal band," Static explains. He and lead guitarist Koichi Fukuda program synthetic blips and bridges that move Cannibal from one heavy blast to another. It's a familiar concept to fans of Ministry, danceable at times, but one not usually associated with Ozzfest-era metal. "I look at it like adding a little bit of dimension to what we're doing. It adds a lot of flavor to the song, and I have a good time doing it, for sure."
Static-X have seen the nu metal scene change dramatically since their start in 1994 (Korn Unplugged?), but their perseverance has much to do with Static's pragmatism. He's quick to say their albums since 1999's smash hit Wisconsin Death Trip have been marred by label interference. He's quicker to question the business sense of a free Ozzfest from the perspective of an unpaid artist. But Static is also jovial. For the first time this decade, his label and management have taken a hands-off approach, and he couldn't be happier with the freedom.
"I think they realized we're not going to be the next big radio band. With the last album [2005's Start A War], we still had the label poking their heads in there, saying, 'Oh, you guys have to go write more songs. You're not ready yet,'" he says. "And I think that creeps into the music. And you're not really uninhibited anymore. As hard as you try, you can't get that out of the back of your head. So it's much more liberating for them to just say, 'Go ahead. Go make a record. We'll put it out.'"
Cannibal begins with a title track in the two-chord vein of Ministry's Psalm 69 aggro nightmare, "N.W.O." Its primitive, brutal repetition snuffs the radio-friendly choruses of Start A War and 2003's Shadow Zone. "It's very focused, for sure," Static says. "'Cannibal' was the first song I wrote for the record. And that really set the tone for everything. I love the way that song came out. And I said, 'You know what? I'm just going to push ahead in this direction. I'm not going to explore any other directions. This is what the record is going to be like.'"
Static's vision on Cannibal was further bolstered by the ability to produce the album himself. John Travis (Buckcherry, Kid Rock) hopped aboard to co-produce and record the jackhammer melee, but it was Static who — for the first time in his career — called all the shots. "It was kind of my idea to sound sort of stripped-down and raw, and it was sort of his talent that was able to really bring that to light," Static says. "So it was really my baby."
Also new to the mix are soaring, heavy metal guitar leads that Static says he proposed adding as early as 2000. "And then Koichi quit the band, and I can't shred, so I'm like, 'Well, I guess there are no guitar solos.'" Fukuda came back in 2005 — shortly before the band got the studio green light. So let there be shred, Static reckoned. "I thought, 'Well, you know, it's a good time to bring it back. Metal is popular right now. Let's put some solos in there.'"
Cannibal escapes the metal stereotypes that might have hampered Static's wishes in Y2K. "I've always thought it was cool, but metal was not cool when our first record came out," he says. "When I moved to L.A., I was like, 'Wow, the only guys that are into metal are like all these washed-up, long-haired guys left over from the Sunset Strip.'" A 2001 tour with Pantera opened his eyes to what it meant to be metal outside West Hollywood. Bassist Tony Campos — an avid death metal fan — soon joined the Brujeria/Fear Factory side project, Asesino. Real metal was in the cards for Static-X, but it would take time to materialize, and not without significant obstacles.
The band's biggest setback occurred in 2005 with the arrest of then-lead guitarist Tod Rex Salvador (who went by the stage name Tripp Eisen). According to MTV.com, Salvador pleaded guilty to two felony counts of engaging in unlawful sex with a minor, and served a little more than six months in a California state prison. Salvador was also arrested that same year on sex-related charges in New Jersey, the Web site reported.
To Find out how Static-X recovered, find the April issue of Illinois Entertainer, available throughout Chicagoland.
— Mike Meyer