Superchrist
To Hell And Black
Chris Black sits at a table in a Lakeview bar, slowly stubs out the orange glow of a Marlboro Red, takes a drink of beer, and prepares to tell the story behind his band Superchrist's new record. It might not be as dramatic a tale as Smile or Chinese Democracy, but the album Headbanger was a pain-in-the-ass nonetheless and a process the frontman/bassist is glad to have finished.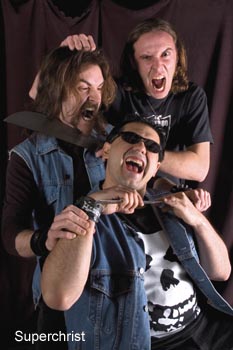 "I've actually been trying to make this record since 2005. We recorded an album's worth of material [in the] second half of 2005, and kinda from the start it seemed like it wasn't really gelling, uh, the way it needed to," Black says about the first version of Headbanger. "I gave it the benefit of the doubt at that point, and I think it was . . . the drums were done, the rhythm guitars were done, and I think it was while I was trying to get the bass down and started to work on vocal tracks that I realized 'No. This isn't going to be a finished product.'"
So began the inactivity of the group, who, up to that point, had been impressively prolific, releasing three full-lengths (Dark & Dirty, Back & Black, and South Of Hell) and a live album (Heavy Metal Tonight) from 2002 to 2005. The lineup fell apart when drummer Whorepuncher wasn't able to commit to touring and the working relationship between Black and guitarist/co-songwriter Hank Bitchlover (the two still remain close friends) dissolved to the point recording sessions became nearly impossible: "We were just in the basement for three hours getting nothing on tape, getting frustrated with each other," Black says.
And to further muddy Superchrist's future, Black was preparing to move from Champaign to Lansing, Michigan, meaning finding new players in Illinois was a waste of time. Two tracks from the initial Headbanger sessions, "Baby Blood" and "Ladycutter," were salvaged for a 7-inch released by Famine, but otherwise Superchrist were in a wicked state of flux.
"For the better part of a year Superchrist was just me," Black says. "Without a lineup obviously there's no rehearsing or anything so I focused on the album and trying to rethink it, restructure some things; a handful of songs just kinda got thrown into the toilet. I wrote three or four new songs kinda from scratch. Other songs, I took a riff out and modified things, revised a lot of lyrics.
"So I spent 2006 really focusing on getting the material ready and getting myself ready to do it for real."
Finally, in December Black started "doing it for real." He took his new songs, recruited a pair of longtime East Coast acquaintances (Black grew up in Pennsylvania) in drummer V. Dee and stage-name-of-the-year candidate Ron Rokken, and kicked out Headbanger, round two, in less than two weeks at MCR Studios in Virginia. It was the first studio-quality material Superchrist recorded since their 2000 demo, We Kill. The results are obvious. "Polished" is likely a word that will never, ever, ever be used to describe Superchrist, whose rough-and-raw, bare-bones, beer-and-blood-soaked hybrid of punk and metal is a distinct throwback to influences like Venom, Motörhead, and Diamond Head. Nonetheless, the basic sound quality of songs like "Black Is Beautiful" and "Fuck Like A Priest" (a hilarious swipe at pederast Holy Joes that includes the refrain "God forgives so screw it/that's how we do it") is far beyond prior albums Black, a producer/engineer best known for his work with Chicago black metal buzz band Nachtmystium, recorded in his basement on his own beat-up rig.
"It worked well enough for the level of production value that stuff needed," Black says about the past recording approach. "The stuff for Headbanger, even the initial version of Headbanger, is a little more sophisticated. I wanted some more production things like introducing some more recording techniques and just be able to do more with it."
The idea of renaming the band actually crossed Black's mind during the adversity that swirled around Headbanger's making, but he decided, because Superchrist is an established name in underground metal, a change would confuse fans.
Any more than three different lineups in a year-and-a-half? Since 2005 Superchrist have been the Chicago lineup (Bitchlover and Whorepuncher), the recording lineup (Dee and Rokken), and now, the Lansing lineup, comprising guitarist Eddie Winter (ex-Iron Fist) and drummer Ian "The Pit Viper" Sugierski. Black is quite aware of the personality his revolving-door lineup infers, but insists the turnover is sheerly bad luck, not a case of "Mustaine syndrome," as he calls it, referring to the infamous ways of Megadeth mainman Dave Mustaine.
"I never wanted it to be this way," Black says with a grin. "I didn't want to be like W.A.S.P. or Running Wild where it's like one guy who has always had the band and then whatever geezers he could find playing. I'll do it that way if I have to, but I really want to have a steady lineup. I want to have a steady lineup where people know the names of everybody in the band and not just me."
You didn't misread. Black did reference German power metalers and pirate enthusiasts Running Wild. That group might be long-forgotten (FYI: Running Wild are still active!) to many metalheads, but the 28-year old, who, when not busy with Superchrist, plays drums in Pharaoh and heads the extreme metal project Dawnbringer, is a heavy metal enthusiast and purist. It's reflected in Superchrist's music, the Venom and Judas Priest patches stitched on his hooded sweatshirt, and his thoughts on today's generation of Ozzfest metal bands.
Though he knows he risks sounding like a cynical snob, Black can't help pine for something more when he hears today's genre torch carriers. Give him the choice, and he'll take a new record from old-school headbangers like Saxon over anything by newbies like The Sword any day.
"I think a lot [of the new] bands are just slight reinventions of, like Lamb Of God, to me, if you had a chemical equation, there's only one chemical different to get Pantera. Lamb Of God is really just redneck thrash metal. Dragonforce is basically Helloween. I wish there were better bands being picked up by these labels and shoved into the spotlight. I wish it was Dark Tranquility and not Children Of Bodom; I wish it was Meshuggah and not Lamb Of God because Dark Tranquility and Meshuggah, to me, have a lot more musical credibility [and] underground credibility than, and not that Shadows Fall and Lamb Of God didn't pay their dues, but, uh, I think the bands that have been chosen by these labels have been chosen kind of randomly.
"I just wish it was better bands that were being advanced," Black admits. "Like why not Slough Feg? Why not Deceased?"
Or, for that matter, why not Superchrist?
— Trevor Fisher