Jon Rauhouse
Stents And Sensibility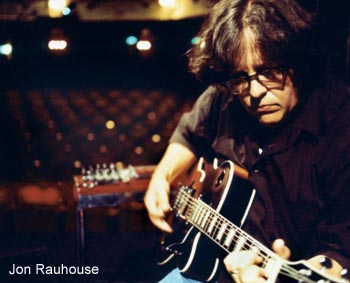 Similar to a scene in a movie where the young ingénue approaches the aging rock star seeking an autograph for an older relative, folks come up to Jon Rauhouse all the time. "Everybody tells me their mom loves my record or their grandma loves my record or they clean their house to my record," Rauhouse says over the phone from his home in Phoenix. But the longtime banjo and pedal steel guitar player takes it all in stride. "Music does different things for everybody. I just love playing . . . I'm getting to do something that I never thought I'd get to do at this age," he says.
Nearing the half-century mark, Rauhouse's career is at a peak. As Neko Case's right-hand man since the turn of the millennium, he catapults the chanteuse's macabre compositions to eerie heights and joins her on the road nine months of the year. Playing for hipsters who have a tendency to leave Nutter Butter cookies on stage as gifts, Rauhouse enjoys bringing his beloved, funny-looking instrument to a new crowd. "Dude, believe me, I'm 49 and I'm in this weird kind of band and I'm definitely not of the era of the people that go out and see music like that," he says. "The cool thing is we have this group of fans that's so nice and they do embrace all styles of music."
On his latest release, Jon Rauhouse's Steel Guitar Heart Attack (Bloodshot), the in-demand session player reveals his penchant for oddball luau ditties (Tikki torches not included) and an irrepressible love for TV theme songs ("Mannix" and "The Andy Griffith Show"). He even showcases his vocal chops on three of the album's 18 tracks, much to the surprise of fans. "When you're in a band with somebody who's got a voice like Neko, you just kind of stay away from that sort of thing," he says matter-of-factly.
Case contributes her pipes to a Brooks Bowman tune, "East Of The Sun (And West Of The Moon)," along with an indie-darling roster made up of folks Rauhouse has played with and befriended in his 30-year career. Calexico's Joey Burns and John Convertino rival Mick Fleetwood and John McVie with their driving rhythm section. Sally Timms from the Mekons breathes new life to Liberace's theme song, "I'll Be Seeing You," and Kelly Hogan gives the record a shot in the arm of Bloodshot-style on "Big Iron."
As a former member of Grievous Angels and a go-to player for Giant Sand, The Waco Brothers, Old 97's, and Calexico, Rauhouse has cultivated an ever-expanding pool of talent. "All those people that are on that record are really like this great family," he says. "Like this weird extended family that's spread out across these different cities of all these musicians I know that I've played with over the years."
The third in a series of instrumentally based records, Steel Guitar Heart Attack takes eclectic to a new level. Rauhouse credits sticking an original like "Red Pollard," which would sound at home in an airport bar (in a good way), before "The Fishin' Hole" (who knew there were lyrics to accompany all that snapping going on in Mayberry?) to his wife's fascination with putting her iPod on shuffle. But most of all, he reveled in the opportunity to place his originals alongside some nifty covers.
"There's just weird melodies that stuck with me forever and getting the chance to actually, like somebody turning me loose on a record unleashed or uncontrolled — well of course I'm going to do these songs that I've wanted to do all my life," Rauhouse says excitedly. "And I write tunes in that vein, too."
One of those, "Drinkin' And Smokin,'" an ode to debauchery, now serves as a tongue-in-cheek reminder of the past, pre-heart scare. The album's title refers to actual events; the liner notes even make special mention to Rauhouse's "cardiac buddies" at Northwestern Memorial Hospital and the Arizona Heart Institute.
While on tour with Case in Toronto recording the Tigers Have Spoken live album in 2004, Rauhouse felt severe chest pains two nights in a row while loading up gear. Thinking "oh, that ain't right," Rauhouse called a friend over at Northwestern who recommended heading in. As the pain subsided by the shows' encore Rauhouse hemmed and hawed about following through with the doctor's orders until Case and their manager literally dropped him at the door and forced him to go inside. In retrospect he is glad they did because it turns out he had a 98 percent blockage in the main artery going across the front of his heart and underwent surgery to put in a stent.
Rauhouse says he remained abnormally calm during testing because "it all seems so surreal while it's happening because, as I was in the hospital, it wasn't painful.
For more on Rauhouse's near heart attack, read the April issue of Illinois Entertainer, available free throughout Chicagoland.
— Janine Schaults