CocoRosie
Fairies And Elves And French Graveyards, Oh My!
"I feel bad sometimes for journalists, because it is hard for us to relate to other music," explains Sierra Casady of CocoRosie, when asked to help describe the recordings she makes with her sister Bianca. "Putting what we do into different categories is challenging for us because we honestly don't think that way. When we're making music we're very, very free and when we're recording, our goal is to capture a living moment. And a lot of times that means just being surprised and following, like, a very mysterious note or a mysterious ghost out into the garden and just, like, actually recording some field sounds and taking that back into our little old studio and recording some vocal improvisation tracks.
Appearing: 5/12 at Metro (3730 N. Clark) in Chicago.
"It's not the normal band, I guess."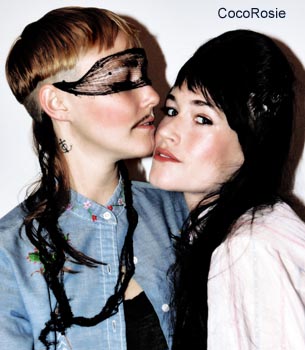 In truth, there's very little "normal" about CocoRosie. For one thing, everything they do seems to reflexively pull between opposite poles. For example, there's a definite innocent simplicity to their approach (especially Bianca's feral-child singing voice and the sisters' habitual use of vintage pull-string toy sounds) all of which belies bracingly adult themes and language. Also, the sisters' visual presentation is often described as androgynous, but rather than leaning toward butch lesbianism in the manner of, say, JD from Le Tigre, Sierra and Bianca want to compete with gay men for the "Beautiful Boyz" they serenaded so obsessively (with the help of Antony from Antony And The Johnsons, who makes Rufus Wainwright seem butch and sings like Nina Simone reincarnate) on the Jean Genet-inspired song of the same name from 2005's Noah's Ark.
So when it comes right down to it, pointing out that CocoRosie's music contains hints of everything from cabaret to folk to hip-hop to gospel to opera is sort of beside the point.
"When you do that it can sometimes get in the way of, you know . . . the true nature of things," confirms Sierra.
Not surprisingly, what this "true nature" is can be a hard thing to pin down. Which is a large part of its power. The new CocoRosie CD, The Adventures Of Ghosthorse And Stillborn (Touch And Go), is a wild and unpredictable thing, by turns anthemic and introspective, sweet and spiteful, catchy and obtuse. The method by which this mad album came to be speaks volumes about the way these women approach the world.
"We were in the south of France and we wrote a lot of tunes, um, in these family cemeteries — like these small family graveyards in the farmlands there. So we kind of drew a lot of themes from those subterranean, underground-body communities. It was just totally dreamy, just pure imagination, and we were really letting ourselves go. Which is great but it's gonna make it hard if it's all that. So to put the whole disc together we needed to really change the environment and . . . kind of . . . sober up, in a sense."
And what better place to "sober up" than a magical fairyland?
"We did the mixing and stuff in Iceland. It's a very mystical place," Sierra explains. "There's a lot of fairies and elves there. Which is not like a personal fetish, it's specific to the culture there and it's kind of cool. The terrain is very specific and incredible — it looks like the moon, sometimes. A lot of the land is covered over by lava and on top of that has grown this very thick moss. And maybe it's something about the ancient rock and the moss but the people there all talk about the fairies and the elves just dancing all about. And when you take a walk out in the land there, you really can almost see them. It was inspiring to be there and it was a very clean, special, majestic place for us to organize all of our material."
For more cuckoo from CocoRosie, grab the April issue of Illinois Entertainer, available throughout Chicagoland.
— Scott Faingold