Winger, Enuff Z'nuff
House Of Blues, Chicago
Sunday, February 18, 2007
"We didn't expect this many people," said Kip Winger to a full House Of Blues. For his notorious, now-reformed hair metal band, the reunion concert succeeded in part due to coincidence: Across the Loop, the annual Chicago Auto Show was just letting out. So despite the brutal freeze over Marina City, there were plenty of pent-up gearheads in proximity who were more than happy to cap off their big day in the city with some "fucking Winger!" — if Winger stuck to their old hits, anyway. The band's foray into progressive metal sparked talk of fistfights near the sound guy, and Kip noticed. So "Easy Come Easy Go" it went — in big, hammy, grin-and-bear-it dollops.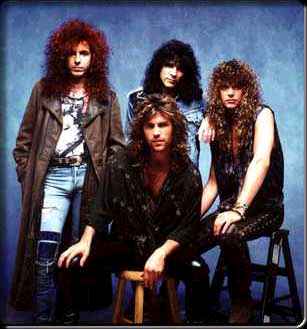 Taking the heat off of Kip's hairy *Playgirl* infamy, openers Enuff Z'nuff started the night off glaringly. Their tour T-shirt at the merchandise table had the wrong year on it, and singer/bassist Chip Z'nuff — wearing shoulder pads in an oversized newsboy outfit — was nearly catatonic onstage. Was his giant scarf choking him? No, he could still open his mouth to emulate The Beatles. "There Goes My Heart" bled into "A Day In The Life" proper, begging the question: With a late-'60s fixation, how were Enuff Z'nuff ever contemporary in their late-'80s heyday? "Fly High Michelle" added starter kit psychedelia to metallic Britpop, but clarified little about this local enigma.
Winger then delivered on their promise of an original lineup, but being the brunt of jokes had turned the onetime Kissy metallers into something of a Bach 'n' roll band with, well, Kip singing (and orchestrating). The few new songs off IV (Shrapnel) unveiled wicked technicality and Iraq War leveraging. Kip had something to say about Cindy Sheehan, but the dark stun of "Right Up Ahead" — a collision of Black Label Society and Images And Words-era Dream Theater — was met with noisy heckling. "I'm not a political dude, necessarily," he said before picking up a 12-string acoustic guitar and saluting the troops. A midsong switch to electric bass followed, as did the hits of his past.
"Headed For A Heartbreak" brought back youth with big, arena-sized choruses — aided by ghosts from the effects-laden board. Kip chewed gum (an annoying constant throughout the set) and played the crowd with finger-pointing, smiling, and clapping. Forget about iTunes killing the album; it was obvious with this crowd that MTV did it long ago with videos such as "Headed For A Heartbreak" drilled into heads for good. It was a chance to once again live out a prom theme, and many fell for the allure of the night's prom king, and joined him.
Winger are way past the dirty strut of "Seventeen," though they pulled it out for good measure when power ballads gave way to balls-out rock. "She's only 35," Kip joked once, recognizing the insanity of a 45-year-old man singing about courting an underage girl. He then delivered it straight-up amid dual-guitar crush: "She's only 17/Her daddy says she's too young/But she's old enough for me." This was the lowbrow highlight of their hits-a-plenty set.
During weaker moments, guitarist Reb Beach (Whitesnake, ex-Dokken) seemed to beg for an extension on his Ibanez contract. He swaggered and puckered in a ridiculous trance of snake-charming proportions, towering above the followers of his half-tapped/half-picked stylings. His mouth muttered nonsense, tongue fluttering. Only keyboardist Paul Taylor kept things consistently humble, sheepishly floating on and off the stage. For the rest: big solos.
"Miles Away" ended the class/band reunion in earnest. Kip sang to his on-again, off-again songwriter (Taylor, then in the audience) while the rest of the house sang to their past: "Just when I needed you most/You were miles away."
— Mike Meyer
Category: Live Reviews, Weekly