Fall Out Boy
Metro, Chicago
Wednesday, February 14, 2007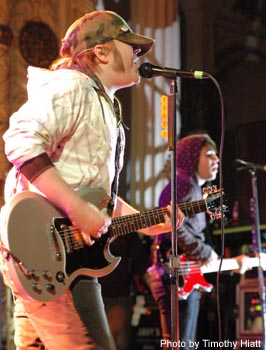 Here's the secret about Fall Out Boy: They're better than you want them to be. Sure, it's easy to hate on them because of the increased pop profile the band now attracts, or de facto bandleader Pete Wentz's PerezHilton.Com-worthy publicity antics. But you know what they say – the root of all anger is hurt. And it's only because so many loyal old-school fans feel betrayed that they're so hurt in the first place. The idea that something they owned no longer belongs to them, or they were never delivered something they were owed.
Click here for more photos.
Which is ridiculous. Occasionally, bands go supernova — if they're lucky. And what really brings the haters out in full force against FOB is that the group aren't really as bad as people want them to be. It would be such a Chicago sentiment, if it wasn't one mirrored nationwide.
So it was only appropriate last Wednesday's sold out Valentine's Day performance at the Metro housed just as many eager and anxious fans as it would those secretly hoping to find a new grudge to hold.
Unfortunately, those holding out hope for disdain might not have left with much new ammo. Wednesday's show served as a competent — if not somewhat safe-played — reminder of what exactly makes Fall Out Boy work. Which is fast, easy, power pop-punk, laced generously with hooks and choruses at every turn, and as over the top as possible.
Case in point, the band came out blazing with the anthemic "Our Lawyers Made Us Change The Name Of This Song So We Wouldn't Get Sued," before delving into an hour-long set that was big on sugar and short on breaks. Surefire crowd-pleasers like "Sugar, We're Going Down" and "Dance, Dance" came as no surprise to anyone, and were delivered in a caffeinated whirlwind, all the while allowing Wentz to ham it up onstage as much as possible.
It would be absurd to think FOB wouldn't be aware of the sect that approaches them cautiously, which, at least in part, most likely accounted for the inclusion of old-school fan favorites like "Grand Theft Autumn/Where Is Your Boy?" and From Under The Cork Tree's "Of All The Gin Joints In The World." Just like FOB's onstage shout-outs to fellow Chicago pop-punk peers like Spitalfield, Rise Against, and Much The Same could be viewed as much as genuine props as much as they could reminders to the crowd that they, too, once existed in a world of Fireside Bowls and Knights Of Columbus shows. Interpreting the group's true motivations for the night's setlist choices and stage banter depended on what side of the room you were standing on.
Oh — they even shouted out infamous Metro security guard/Chicago music scene icon Roy. If that's not a grab at Chicago indie points, it's hard to judge what is.
Unfortunately missing at Wednesday's show was anything too daring or risque, not that anyone came expecting Kid A. Each move seem overly coordinated, with little space for spontaneity. While the night's set no doubt left the majority of the house satisfied, sorely missing was more adventurous and rewarding fare like Cork Tree's "Get Busy Living Or Get Busy Dying," or new record Infinity On High's "Don't You Know Who I Think I Am." In fact, FOB all but completely side-stepped their new record — much of which is more expansive than previous material — save for a song or three. If anything, Wednesday was just as much a very safe bid to remind Chicago that they too once stood on the other side of the stage at the Metro, and weren't all that different from you and me.
Regardless of the fact that the latter is no longer true, Fall Out Boy probably deserve some points for the sentiment and making the trip out anyway. After all, it was much colder here than it was in L.A.
— Jaime de'Medici
Category: Live Reviews, Weekly