The Ettes
Ronny's, Chicago
Friday, Feburary 23, 2007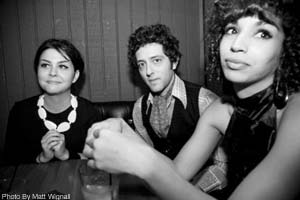 Most musicians, we hope, think their band is good. Confidence, after all, is probably what allows some people to take the chance and get onstage while the rest of us play in the privacy of our own homes, never heard by any ears but our own.
So the fact guitarist/vocalist Lindsay Hames, bassist Jeremy Cohen, and drummer Maria Silver thought their band, The Ettes, was the shit when they formed in 2004 isn't a surprise. But when does confidence become craziness? Maybe when an indie band, with no label backing, self-finances a trip to England to record at Toe Rag Studios with Grammy winning engineer Liam Watson (White Stripes, The Kills).
We can't say whether such an adventurous professional move paid off in sales of Shake The Dust, which was released last September, but it did land them a record deal with Sympathy For The Record Industry (which has counted acts like Detroit Cobras, Turbonegro, Rocket From The Crypt in its ranks since opening in 1988) and a pretty darn good record. /Brimming with a streetwise swagger but coated with a sugary exterior, Shake manages to be both pop and punk without being pop punk, or at least not in the dreaded Blink 183, Sum 41, Simple Plan way. Through 14 tracks (13 originals and one cover — Reigning Sound's "We Repel Each Other") The Ettes keep their foots on the (distortion) pedals, but always remember the best way to make people remember your band is to write songs they'll remember. Whether Shake The Dust makes them a household name remains to be seen, but it should at least ensure that next recording trip to England won't be out of their pockets.
— Trevor Fisher
Click here for samples of Shake The Dust.
Category: Stage Buzz, Weekly