The Orangeburg Massacre
American Legion Hall, Highland Hall
Tuesday, February 27, 2007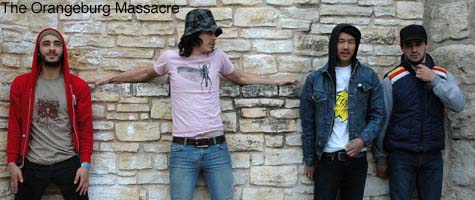 We can't understand a darned thing these kids are sayin'!
That's not completely true. There's are a few instances during "Crooked Toothed Storyteller," the third song from The Orangeburg Massacre' full-length debut, Moorea (Pluto/East West), where vocalist Brandon Barron just talks, but beyond that, you're guess is as good as ours. Musically, obvious metal, some atmospheric post rock, considerable hardcore, and a bit of punk influence makes this Southern California band, which also includes guitarist Alex Lim, drummer Anthony Garay, and bassist Danny Camarena, a hard one to slap a genre tag on with any amount of certainty. "The Catacombs" sounds like a less pretentious Isis; "Science. Fiction. Fear." sounds like a more-structured Converged; and "Bryan V Darrow" sounds like a sludgier insert metalcore band here.
Problem is, none of it sounds especially good. On the band's MySpace page, they say "A lot of fucking bands end in massacre. We did it first, we do it best." A quick Allmusicguide.com search of "massacre" does indeed yield many results — Massacre, Eve Massacre, Mixx Massacre, Beneath The Massacre — but only a few familiar. Something tells us, though, a few years from now we're more likely to remember, say, The Brian Jonestown Massacre, than these dime-a-dozeners.
— Trevor Fisher
Click here for streaming samples of The Orangeburg Massacre.
Category: Stage Buzz, Weekly