Slings & Arrows
Schubas, Chicago
Wednesday, February 28, 2007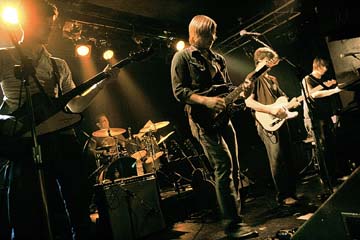 Chicago's Slings & Arrows have a knack for choosing poor monikers — they used to be Public Four — but more than make up for it with a shadowy dream pop/slow-motion pyrotechnic mindscrambler.
Recorded under their former name, "My Amelia" was strong enough for me to vote for it as my fourth-favorite song on my Village Voice 2006 "Pazz & Jop" poll, and the other three songs on their Animal Grammar EP were nearly equal candidates. "Amelia"'s echoy, central guitar figure crosses the night sky like the blinking lights of an airplane, until a rivalling chorus emerges from the earth to set the sky on fire. It gloriously references both Coldplay's "Yellow" and Radiohead's "Creep" but somehow sounds like it came before both, like some defunct Suede/My Bloody Valentine one-off.
Elsewhere on the EP, "Birthday" resembles the latter stages of Talk Talk, "Policeman" rattles the Marc Bolan chains, and "Mockingbird," ironically, is the least referential, creating tremendous space for itself before evoking everything from Southern rock, shoegazing, and mod R&B. Curiously, a new song posted on their MySpace page — or at least not included on the original Public Four version of the EP — "Not My War" follows this blue-eyed soul tangent and nearly runs into another hot Chicago band, Catfish Haven.
Must be some poor-band-name thing.
Lemur headline; Freer open.
— Steve Forstneger
Click here to download "My Amelia."
Category: Stage Buzz, Weekly