Daughtry
Double Door, Chicago
Wednesday, March 7, 2007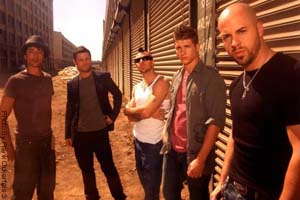 If you know the name Chris Daughtry it's likely because of his stint on the fifth season of "American Idol," where he was a top-five contestant. Five years from now, if music fans remember Daughtry, it will more than likely still be because of his stint on television. Because it sure as hell ain't going to be from his band's self-titled debut.
Thanks Bo Bice. We admit rooting for Bice, the long-hair Southern rocker from "Season Four," to win the whole damn thing and put a stop to the contrived bubble-gum blandness that had overtaken "Idol." Bice didn't win, he got second, and we can't forgive him for kicking open the door for an entirely different breed of wannabe idols: Guys who love '90s post grunge and, though they couldn't even draw a cynical glance from your grandmother, are viewed as "bad boy rockers" by the American television-viewing public. Guys like Chris Daughtry.
Let's clear up one thing: We don't have anything against Daughtry because their singer was on "American Idol," we're totally down with Paula Abdul, dude. We have something against Daughtry because of Daughtry, the album. It seems impossible a group of guys (Daughtry's co-writers included producer Howard Benson and former Evanescence guitarist Ben Moody) could write something this bland, generic, and shockingly predictable. However they did it, lots of Nickelback and Fuel (who, coincidentally, asked Daughtry to be their new singer once he was finished with "Idol") listening sessions had to be involved. Except, this stuff is even less offending than Nickelback, Fuel, Creed, and 3 Doors Down combined! Remember how your mom hated listening to rock radio while you rode in the car with her? She'd probably think Daughtry is "pretty good." The only song among the 12 with any teeth is "What I Want," and that's just because Slash plays guitar on it. As for what the fuck Slash is doing on this record, we don't know. But it saddens us. Greatly.
Eve To Adam and Cinder Road open.
— Trevor Fisher
Click here for samples of *Daughtry*.
Category: Stage Buzz, Weekly