Bayside
Metro, Chicago
Friday, March 2, 2007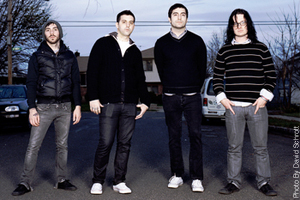 With its biggest names either gone (Atreyu, Taking Back Sunday) or trying their damnedest to leave (Hawthorne Heights), the top-dog spot at Victory Records is a wide-open race. Bayside, though, look to be the front-runners, a far cry from the position the band were in less than two years ago.
It was October 31st, 2005 when the van carrying Bayside to a gig near Salt Lake City hit a patch of ice and flipped, killing drummer John Holohan and seriously injuring (broken back) bassist Nick Ghanbarian and the group's guitar tech. Guitarist Jack O'Shea and guitarist/vocalist Anthony Raneri were released from the hospital with minor injuries, but there was no doubt the foundation of the Long Island group was shaken, nearly to the point of completely crumbling.
Rock 'n' roll bands suffer and overcome tragedies too frequently — call it the inherited dangers of the profession. So Bayside's decision to carry on isn't as much a story as the unrattled perseverance they showed doing it. Within weeks of Holohan's death, O'Shea and Raneri rejoined Hawthorne Heights, Aiden, and Silverstein on the road, performing a nightly acoustic set that included "Winter," a tribute to their departed drummer. The last show of the tour, at the House Of Blues in Chicago, was recorded for the live Acoustic EP, which was released in February 2006. Though it's a cliché in every sense of the word to say "he would have wanted us to keep going," the members of Bayside must have truly believed it because a year after Acoustic, and less than two years after Holohan's death, the band released their third full-length, The Walking Wounded. Adversity like Bayside have faced usually results in some kind of growing up, obviously the case on Wounded, the band's most mature album to date and an obvious attempt to escape the emo tag that has hounded them in the past.
Bayside, along with Meg & Dia and Jonezetta, open for Anberlin. This show is all-ages, early event; Clipse and Low B play the 18+ show at 11 p.m.
— Trevor Fisher
Click here for samples of The Walking Wounded.
Category: Stage Buzz, Weekly