Clipse
Metro, Chicago
Friday, March 2, 2007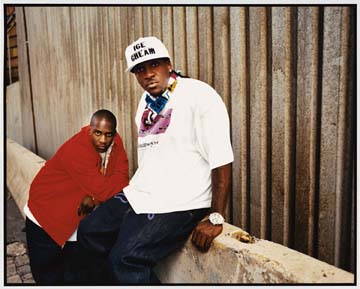 The story of the brothers Clipse is of one but not the other. The only continuous pairing in their artificially elongated career is themselves — Pusha T and Malice.
Early in their career, Virginia-bred Clipse caught the ear of The Neptunes' Pharrell Williams, who battled to get them a deal with Sony. It collapsed after only a single, and Williams fought again to get their aborted album, Lord Willin', released and finally saw it so by Arista in 2002 (justifying the label's investment, the album went gold). Uncontrollable forces would intervene again, however, this time chaos at Sony Music that led to a four-year commercial hiatus. Undeterred, Clipse released mix tapes to the underground, which kept bloggers satisfied until Hell Hath No Fury was released this past November by Jive.
Seeing how the single "Mr. Me Too" stalled at 65 on the Billboard Hot R&B/Hip-Hop Songs chart and Hell didn't even crack the Top 200, it's hard to tell who was waiting aside from critics. (The album earned a lofty 9.1 from Pitchfork and a shocking seventh place on the Village Voice's Jop & Pazz poll.) So who's more right?
Far from inaccessible or obtuse, Hell is an explicitly angry album that isn't at all mad at record company slights — it's all about slinging rock and the gangsta life we've heard so much about already. But in a weird bit of intentional symmetry, The Neptunes' beats aren't du jour but tailored to Clipse. They're also frighteningly minimal so the buzz almost distorts "Trill" and "Chinese New Year." Apparently without the help of Chad Hugo (Neptunes are Williams and Hugo) tracks on *Hell* also frequently come off like Timbaland/Missy ripoffs on "Ain't Cha" and "Wamp Wamp." "Dirty Money" is so basic it's almost comical, and the RZA gets aped on "Ride Around Shining" and "Keys Open Doors."
The river has to be Pusha T and Malice, who are serviceable if unremarkable. They don't have much to say aside from"So much glam-uh/I can't stand the/glare from the ice" and references to the Tiptronic gear-shifter in a Porsche, though they do get points for not double tracking their vocals or bloating the album with skits. Having ice in their veins might have kept Hell from embarrassing thugs-need-love-too tripe or the even more embarrassing brass-ring reach that fell The Roots two years ago, but it does not make a great hip-hop album, either. We'll just have to wait a little longer.
Low B. opens. This is a late show and separate ticket from the Anberlin, Bayside, Meg & Dia, and Jonzetta show earlier at Metro. As if that didn't go without saying.
— Steve Forstneger
Category: Stage Buzz, Weekly