Scissor Sisters
The Captain & The Kids And How Life Became A Cabaret, Old Chum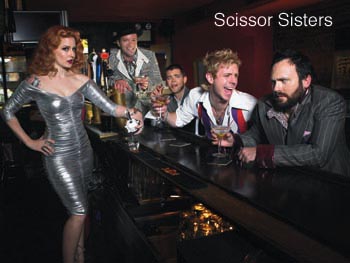 The temptation to draw corollaries between Scissor Sisters and stand-up comedians is tantalizing. Comics, they say, are the most insecure people on earth. The desire to make people laugh is a cry for help, a juvenile flaw that could send the most confident of performers to crushing, insurmountable lows.
Appearing: March 9th at Riviera Theatre in Chicago.
Like so many of the greats before them — The Beach Boys, Elton John — Scissor Sisters' surface joy, tantamount to exuberance, gets tinged with melancholy in a calculated contrast to bring the two faces of drama to the fore and challenge the perception of happiness.
Despite unqualified success in the United Kingdom, where their debut album outsold all others in 2004, Scissor Sisters remain an oddity back home. In an interview spelling overworked founding members Jake Shears (Jason Sellards) and Babydaddy (Scott Hoffman), Ana Matronic (Ana Lynch) admits "I live in Brooklyn — nobody knows who Scissor Sisters are in Brooklyn. Some people do, but not in my neighborhood." Her comment isn't melancholic, however, but a prelude to intent. The band's second album, Ta-Dah! (Universal), isn't the typical sophomore, see-what-fame-has-bought-us revelry. Its dancefloor readiness seeks balance.
"There was a lot of soul searching and difficulty when we came back to New York after touring with the first record," Lynch says. "Because we were gone so long, you go from a place of extreme structure where your tour manager is calling you in the morning telling you where you have to be. Your life is incredibly structured. You've got your interviews then you've got your soundcheck. Then you're at your show then get on the bus to a new town and you do it all over again. And then when you get off tour, you're home and you have nothing to do. You go from a hyper-structured lifestyle to a complete freedom where you wake up in the morning and you don't really know what you're supposed to do except work on the new album. I think you have to give yourself time to reconnect with yourself — reconnect with your friends, reconnect with your family — in order to get back to living life as you knew it and getting back to creativity as you knew it with the first record. Our first record was written out of our life experiences and we needed to get back into our lives in order to have experiences in order to write. It was tough."
Life was tougher when they returned because shortly before the release of Ta-Dah! Shears was greeted with the death of a close friend, bringing the euphoria of fame to a screeching halt. People die, even in the lives of people who've made seemingly ironic covers of Pink Floyd's "Comfortably Numb" and Franz Ferdinand's "Take Me Out." "I Don't Feel Like Dancin'," an international club hit, is disconcertingly guilt-ridden.
There can be worse remedies, however, than the sudden friendship of Sir Elton John, who immediately took a liking to Scissor Sisters and offered more than caché to their second record.
"Elton's been a really fantastic resource especially for Jake," Lynch says. "I think there are pressures in this business, especially for lead singers, that other band members don't feel. Elton's been a great go-to guy for him."
But this has taken a turn for the maudlin when otherwise signs are pointing upward for Scissor Sisters. John's contributions to the band were nothing to do with charity, but more a recognition of sublime talent. While most New York bands were toiling away in the shadow of The Strokes and eventually Interpol, Scissor Sisters' strong ties to the arts community dictated a success pattern tied to their own means. Lynch's own involvement comes not from "American Idol" aspirations as the mere manisfestation of "what may come."
page 1 [ 2 ]