Brent Amaker & The Rodeo
Brent Amaker & The Rodeo
(J-Shirt)
A gang of Seattle music vets take a love of whiskey and Cash and turn it into what can best be described as a reverent parody.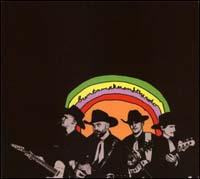 Without resorting to hamming up the music or even playing it remotely well, Brent Amaker & The Rodeo like to love country music on their debut, though irony can't be far behind. Amaker's flat baritone would seem most likely to lampoon Johnny Cash, but despite the hard-tonk feel of the songs (guitar, bass, drums) it's obviously not Cash at whom he's having a go. Instead it appears to be a send-up of this type of music's revivalists, and hardly veils its shots ("Sissy New Age Cowboy," "Get The Hell Out"). Whether this is worth the debate remains to be determined (leaning toward "no"), but it might be a fun record to throw in during your next Hank III/Legendary Shack Shakers hoedown.
5
— Steve Forstneger
Appearing: March 7th at Elbo Room in Chicago.
Click here to stream songs from Brent Amaker's EPK.