David Vandervelde
Schubas, Chicago
Saturday, February 3, 2007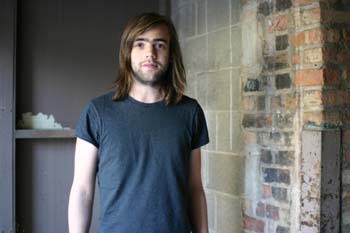 David Vandervelde sounds old, which wouldn't seem like such a big deal except this young lad from Holland, Mich. was actually born around the time David Lee Roth was "jumping" around in spandex. And it's not that he sounds over the hill vocally as much as the aura surrounding the Chicago transplant is prematurely going gray.
On his debut album, The Moonstation House Band (Secretly Canadian), Vandervelde makes no bones about pilfering from classic rock's back catalog, and his eight songs conjure up glittering images of T. Rex and are doused with Bowie.
Recording and living more than two years at Jay Bennett's Pieholden studio in Chicago, Vandervelde quickly bonded with the former Wilco instrumentalist and got to poke and prod much of the same gear used on Yankee Hotel Foxtrot. Bennett even co-wrote and contributed bass on the album's first track, "Nothin' No."
For "Corduroy Blues," Vandervelde enlisted Beck's dad, award-winning string arranger David Campbell, and the swelling results wouldn't be out of place in a grandiose '70s cinematic fete intended to tug at the heart strings, a la Love Story. Ditto for the self-explanatory "Moonlight Instrumental," which tells a story with its lulling beauty despite an absence of lyrics.
Vandervelde headlines a late show with Soft As Fuck and Hot As Hell in support, beginning at 10 p.m. The Sklar Brothers' earlier show is a separate event.
— Janine Schaults
Click here to download "Jacket."
Category: Stage Buzz, Weekly