She's Spanish, I'm American
She's Spanish, I'm American
(Bedroom Classics)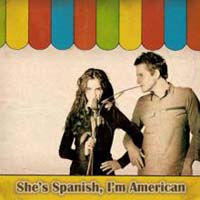 Stupid moniker in tow, Josh Rouse's side project drags bilingual girlfriend Paz Suay into a lite rock splash befitting its lighthearted title.
The five songs on this dainty EP are sugary and wispy to the point of unbelievabality. Rouse is no slouch when it comes to bedroom-eyed pop, but the addition of the impossibly girly Suay gives him a counterpoint that farts daisies. "The Ocean Always Wins" does little to convince us Rouse's own interpretation would have been much different, though he draws out his own Brian Wilson on the otherwise breezy "These Long Summer Days." Suay comes in most useful talking back to her beau on "Answers," and manages to steer "Jon Jon" away from Belle & Sebastian aping into a snuggle on the couch. It's enough to make you sick.
6
— Steve Forstneger