Hayward Williams
Uncommon Ground, Chicago
Every Wednesday In February, 2007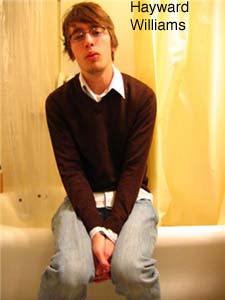 We don't know how old singer-songwriter Hayward Williams is, but he can't possibly be as old as the voice on his debut CD leads you to think.
In fact, we aren't completely convinced the Hayward Williams you see in pictures is the one performing on Another Sailor's Dream (Machine). Take a look at the picture above. Look at this guy!! What do you think his primary influences are? Silverstein? Taking Back Sunday? Maybe he's deeper than that . . . Incubus?
Williams, a Milwaukee native, should have called his record Don't Judge A Book By Its Motherfucking Cover, Bitches! because he's not what we expected. His picture says wimpy, tight-pants emo lover, and his residency at Uncommon Ground says overly sensitive (and maybe a little wimpy), acoustic-strumming coffee-shopper, but Another Sailor's Dream is something altogether different. Williams hopscotches between melodic folk ("The Ballad Of Benson Creek"), revved up blues ("A Glance Back"), and dusty alt-country ("Who's It Gonna Be Today"), often smooshing all three into one patty ("Redwoods"). He doesn't have the weathered cackle of obvious influences like Tom Waits and Bruce Springsteen (whose "Thunder Road" Williams covers), but Williams' gruff voice is full and a perfect complement to the style of music he, somehow, is most comfortable playing.
Williams is part of Uncommon Grounds' monthly Back Room Sessions.
– Trevor Fisher
Click here for streaming samples of Another Sailor's Dream.
Category: Stage Buzz, Weekly