Iomos Marad
Schooled
"I call myself the social worker of rhymes." These are the words of South Side native Iomos Marad (born Marcus Singleton), the MC who introduced himself to the public by rapping and drumming on CTA platforms. Ever since he officially entered the rap game with his anti-materialistic single, "Deep Rooted," in 2000, it has been no secret this pensive MC creates hip-hop to make a difference. Although instead of recording raps for the past few years, Iomos has literally been carrying out social work in the classrooms of middle schools throughout the notorious West Side neighborhood of K-Town (aka North Lawndale).
Following the footsteps of his mother, who did social work for 30 years, Iomos works for the Lawndale Christian Health Center (LCHC). Through his job at this nonprofit, he regularly talks to eighth graders about sexual abstinence. But if you ask these kids, chances are, they have no idea Marcus Singleton goes by the alias Iomos Marad, much less realize he raps. Of course there have been exceptions.
As Iomos explains of the attempted concealment of his craft, "I try to keep that on the low, but when my co-workers go with me, they be like, 'Ya'll know Mr. Singleton rhyme?' And the [students] be like, 'What?!!? Spit something! Spit something!' So then I have to rhyme," he grins.
On the occasion Iomos spits a few bars for the kids, he insists they become much more receptive to hearing about abstinence. But first they get distracted. "[They're] like, 'Dang, he cold. Man why you ain't where Kanye at?' Then the questions like that come. And I'm like, 'I don't need to be. I'm where I'm supposed to be — I'm with y'all. I'm supposed to be with y'all.'"
Statements like this partially explain why Iomos disappeared from the industry radar not too long after the release of his acclaimed 2003 debut album, Deep Rooted (All Natural Inc.). Upon acquiring a deeper sense of spirituality, Iomos no longer believed hip-hop was the most appropriate way to reach people. Thus he soon began working directly with the youth via organizations like the LCHC. But in 2006 he opted to head back into the studio. Heavily inspired by the work ethic of fellow Chicago MCs like Capital D of All Natural and LongShot, Iomos realized when it comes to recording, there's no time for slacking.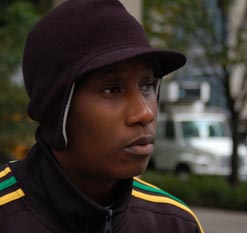 "I really just want to concentrate on music more because I don't think I ever put my all into it," says Iomos, who admittedly left a lot of listeners hanging a few years back. "I think all the arrows are pointing to me going ahead — going all out."
The title of his new EP, Go Head, aptly captures the spirit of his re-awakening. While Iomos has found a new urgency to record, he still carries the same socially conscious stance. On the standout "War Stories," Iomos declares he has, "No war stories to tell/I never sold drugs/I never bust shots/plus I never got shot" atop Yuani's pounding piano loop. Sure some may see declarations of the sort as being self-righteous, but Iomos comes from the KRS-One school of hip-hop where you lead by example. Despite having hung around Black Stone gang members as a kid, Iomos has never glorified the criminal lifestyle. To this MC, exploiting your corner hustles or flashing cash, platinum chains, and 24-inch rims in front of the have-nots is simply unacceptable.
"These other rappers will make you think they got money and they kickin' it, but man, if you go in these neighborhoods, these people out here is suffering," he laments. "These kids out here can't read, but they know [D4L's] 'Laffy Taffy'? Come on, man. I ask my kids, 'Do ya'll know who Assata Shakur is? Do ya'll know who the 15th president is?' 'Nah, we don't know that.' 'Do ya'll know 'Laffy Taffy'?' 'Yeah.' They know that word for word."
In a world where the youth would rather listen to "Laffy Taffy" than anything remotely intelligent, Iomos realized in order to really make a difference, he had to reach kids directly in the classroom. Hence, as his job with the LCHC winds down (his program lost federal funding), Iomos will be going back to school at Chicago State University to become a certified teacher.
"[With] that bill that Bush passed [No Child Left Behind], it's like they just pushing 'em through the grades without even the basic skills that they need to go to the next level, which is high school and college," explains Iomos. "So I definitely want to infiltrate the system and try to change that. I think I can."
Before he officially re-enters the classroom to spark a revolution, Iomos has grand plans to record. Already, he has projects lined up with some of Chicago's most respected hip-hop acts. His immediate plans include an album with the ever-unyielding Capital D and producer K-Kruz of Modill, which will ultimately lead to the release of his sophomore full-length, Monumental, due out this summer. Even if Iomos' name hasn't exactly been bubbling in the industry as of late, he's more determined than ever to enlighten listeners through a plethora of new material.
"I feel like even though I'm on a lower scale [in the industry], I still got a big responsibility when it comes to the words I choose when I sit with a paper in front of me and a pencil in my hand," says Iomos. "I got a big responsibility. And I don't want just young people to hear my stuff. I want older people to feel my music too. Older people think rap music is all cursing. It's not, though."
As a God-fearing man who keeps his raps upbeat yet assertive, Iomos knows a little something about the righteous side of hip-hop. Not that his words are entirely spiritual, but Iomos remains focused on self-progression. As he raps on the uplifting "Strong Love," "I learn from my mistakes and these two-faced snakes/strong love from the omnipotent helps me elevate."
While trap rap continues to dominate the mainstream, Iomos will provide the yin to the corner hustler rapper's yang. At the end of the day, Iomos Marad is an MC with enormous intellectual ambitions and modest material aspirations.
"I wanna live nice, but I don't want no Range Rover," says Iomos. "My dream car is a Subaru Tribeca." The testament may sound laughable, but unlike rappers who don six-figure rides in their videos, Iomos would be happy with a $30,000 SUV.
As he says, "I'm just a down-playing type of dude."
— Max Herman