Hush Sound
Burbing Over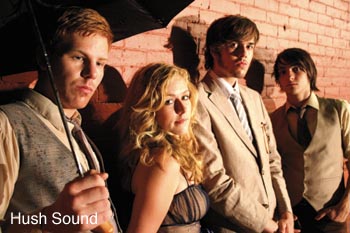 The suburbs can be a dismal place to hang out from the teens to early 20s, but then again, they can also be the perfect grounds for a band hoping to beat the boredom. Though members of The Hush Sound had already experimented with other musical entities before teaming up, their pop/rock/folk fusion has already added some spice to their respective towns of Bensenville, Oak Brook, Bloomingdale, and Glen Ellyn.
"We pretty much grew up in the most Pleasantville area you could think of where we had a big group of people's support," explains vocalist/guitarist Bob Morris via phone from home (Bensenville to be exact). "Since there's less going on, you can get a bunch of people to follow a band for a long time, even if it's hard at the beginning."
Unlike most area start-ups desperate for the limelight while battling it out among fellow suburban bands, The Hush Sound were cut from a somewhat different cloth. Most of that had to do with Morris' time in The Audition (dance/pop/punkers who've since joined Victory Records) and the fanbase carryover, though he's quick to point out the bands are nothing alike.
"The Audition is a cool band and are still really good friends of mine, it just wasn't for me," he asserts. "We created some buzz together and it was a lot of fun, but I love older music and it's too different from what I love."
Rather than strolling the punk, emo, or indie aisles, Morris is a fan of all things old school, from Motown to The Zombies and Beach Boys to Elvis Costello. Though those influences aren't especially overbearing on The Hush Sound's Like Vines (Decaydance), there is a certain sense of swooning groove, sunny harmonies, and a summertime feel.
There's also the vocal interplay of Morris with pianist Greta Salpeter, who adds a feminine touch to the group's more aggressive nuances. The rhythm section is rounded out by bassist Chris Faller and drummer Darren Wilson, who add a certain sense of liveliness and punch to the singers' diversity.
"Greta and I have been friends for a really long time and she was always the person who made me feel better when I was bummed out about a band," Morris continues, referencing his parting with The Audition. "She's really good at piano and singing and it worked out because we had a bunch of ideas. It was really refreshing and exciting and then Darren and Chris came into the picture to round it out."
In fact the gel seemed to stick so well within three months of forming, the group released So Sudden (also on Decaydance) in late 2005. Scoring a record deal with the Fueled By Ramen imprint so soon was indeed an impressive feat, but then again it helped to have roots in a previously signed band, along with friends in high places. Panic! At The Disco's Ryan Ross just so happened to fall in love with their sound early on and passed the word to Fall Out Boy's Pete Wentz (who oversees Decaydance) and his bandmate Patrick Stump (who wound up sitting in the co-producer's chair alongside Sean O'Keefe).
"Our relationship with Pete is an interesting one — he's definitely a smart business guy and I would consider him a friend," offers Morris. "He's a good dude despite what people may say about him. Patrick is really strong and so incredibly talented as well."
And while the leader recognizes the somewhat speedy signing process, he shares why it made the most sense. "We're trying to get the music out there and we have a fanbase that really listens to music," he persists. "Getting on board with the label isn't like rocket science. They just treat their bands well, know how to promote bands in a way that make them feel comfortable, and they never dick anyone around. They are nice guys from start to finish and they achieve what they're going for."
Getting on the topic of label relations inevitably leads to the notorious Hawthorne Heights/Victory Records lawsuits, which continue to be a primary topic of conversation for alternative acts (especially those from Illinois). "There are labels out there getting sued by bands because they're always trying to squeeze every dime out of bands, which is bullshit," Morris rants. "It's stupid and there has to be some sort of love for the music. You can't be a doctor if you don't want to help people! When I was 17, I used to think it would've been awesome to have a deal, but a band should think better and not just jump at any contract being waved in front of them. Pete's been in the business from a band standpoint and has that insight, which he in turn passes on to the bands [he signs]."
However, those who aren't fans of Fall Out Boy, Panic! At The Disco, or others in Fueled By Ramen's family may seem skeptical of The Hush Sound right off the bat. Though both acts are extremely popular at the moment, Panic! seem to have blown up especially quickly, which could very well make for a fast fall. But Morris and company aren't interested in being an overnight success, nor do they even care for radio's embrace.
"We don't even want to be on the radio at this point, which is so dangerous with your first [official] album," he contends. "We're definitely at the stage where we consider ourselves a baby band and we don't need to do that route. We don't want to build our [national] following right away. We want fans who actually care and later on love that you're on the radio. There's absolutely no rush."
After a fall tour with Jack's Mannequin, Daphne Loves Derby, and Copeland, the group embarked on a their own headlining jaunt. The new year's schedule is again dedicated to the road with overseas dates in the works, along with a potential homecoming to somewhere intimate in the suburbs. But even though The Hush Sound don't forget where they came from, members don't feel all that connected to the Windy City as one might expect.
"We play Chicago like twice a year, so it's hard to even think of us as a Chicago band," Morris muses. "We wanted to do a local show at either a gym or church basement and hope to maybe do that. I guess I don't really worry about it that much because we're not very worried about where we fit in here locally or with any other musician. I'm not concerned because I don't see how it matters. Every band should be worried about making music on a high level and trying to grow as people, not worrying about where they fit in with a scene."
— Andy Argyrakis