Psalm One
Droppin' Science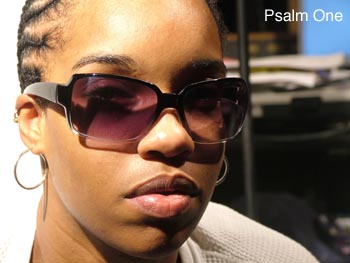 "What was the question again?"
Cristalle Bowen, known to hip-hop heads as Psalm One, asks this more than once while being interviewed in the Abbey Pub's basement. It isn't because the Englewood-raised rapper is absent minded. It's more that, luckily for IE, she truly attempts to answer each question as thoroughly as possible, which sometimes leads to tangents that lure her from the the initial topic.
It also doesn't help (hurt?) she's a little drunk.
That's O.K., though; tonight is a celebration, after all. This cold, blustery late-October night is not only the 26-year old's first hometown gig since July, she's part of a solid lineup headlined by Del The Funkee Homosapien, and Psalm One stock has increased significantly since her last trip home. Death Of A Frequent Flier, Psalm's second full-length but first for indie hip-hop powerhouse label Rhymesayers, has catapulted her from random mentions on underground hip-hop Web sites to glowing reviews in the pages of Rolling Stone and Spin.
Pretty impressive when you consider just two years ago testing for carbohydrate levels in food was more of a priority than music. Psalm spent four-and-a-half years studying chemistry at the University Of Illinois, and with degree finally in hand, she put it to good use at a Chicago Heights food lab. Hip-hop was still a part of her life, though. In fact, she started writing Frequent Flier in 2003, while still a food chemist (her 2002 self-released debut was aptly titled Bio:Chemistry), which, along with live shows, meant lots of lost sleep.
"At that point in my life I was working 6 [a.m.] to 2:30 [p.m.], and I would get home by like 4 then I would go to sleep by, like, 6 and wake up by 9. Then I would go 'til 2 [a.m.] on some rapper stuff then get up at 4," Psalm remembers. "It was really bad. Something had to give."
Psalm never disliked her job — "Man, I'm such a nerd. I loved it," she says — but admits it became repetitive. She was offered managerial positions but turned them down so she could still be flexible with her music schedule. The single incident, Psalm says, that converted her was a guest spot on Casual's 2005 record, Smash Rockwell. Her turn on the song "Bitin' And Freakin'" was so strong she was offered a deal from Hiero Imperium, the label home of Casual, Del The Funkee Homosapien, and the rest of the famed Hieroglyphics crew.
Suddenly, Psalm was rethinking her career choice. "I was like, 'I quit, I quit, I quit!,'" she says about the decision, which wasn't immediately popular with the rest of her camp. "It was very funny because my lawyer, everybody told me not to quite my job. Everyone was like, 'It's gonna happen; you're gonna tour.' And I was like 'I gotta get on the road!'"
"I was totally like . . . the bug just really caught me. That little bit of interest from a legend [Casual] to me was just like, 'Ah shit, I'm done!' When it hit me, it hit me so hard it kept me up at night; it changed my life. I was making a hella lot more money, hella lot more money," she emphasizes, "than what I'm makin' now, but I'm happy."
Rightfully so. Though Psalm ended up signing with Rhymesayers instead of Hiero, Frequent Flier is a superb effort that showcases Psalm One as one of indie hip-hop's brightest talents. Her flow moves seamlessly between serious ("The Nine"), goofy ("Macaroni And Cheese"), venomous ("Mountain High"), and narrative ("The Living").
But most importantly, she rises above — far above — the female MC stereotype. On "Rapper Girls," a scathing dis track aimed at Lil' Kim/Foxy Brown/Trina-type rappers more concerned with image than skills, Psalm says, "You got that look down alright but you'll never be Lauryn/that would be more than that girl who raps good for a girl."
"You rap good for a girl" is the kind of backhanded compliment Psalm has heard more times than she cares to remember. "It puts you in this position where it's like, you're good but you're only good in this respect and you can't be good on this bigger stage. It's like, 'Are you kidding?' But it's O.K."
O.K.? Really?
"It's O.K. sometimes when people are really heartfelt about it, and I don't want to get too offended because sometimes they are just ignorant to the fact that I'm very sensitive about it, and they're really trying to compliment me. If you say I'm a very good MC or the best female MC I'm not going to be like, 'What?!'"
But don't, Psalm clarifies, mistake that for complacency. She wants to be known as a great MC — period. No gender clarification needed. It's an attitude she learned from one of her favorite rhymesayers.
"Lauryn Hill taught me you could be better than the dudes in your group as far as rapping. I was on some rappin' shit a little bit, but when I heard The Fugees I was like, 'She's the best rapper; she's the best lyricist out of this crew,'" Psalm says. "That completely changed my whole perception. I was like, 'You can be better than all these dudes.' That was the difference; then it was competition. It was the difference between thinking that you can't be competition to you can be. There's no reason you can't be. [Prior to that] my sense was that you're just a chick. You're not competition, you're just a good chick, and you stay there. You don't challenge anything you just stay in your position.
"I feel like there's a very general perspective of female rappers because there are so few of us," she continues. "So there's only two or three categories you can fit in, and that's it. With me, if you really listen to my lyrics, I'm extremely sexual, kinda slutty in some instances," she says, laughing. "But I don't do that. That's not my steez. I'm not gettin' up on stage in a bra, you know? I'm gettin' onstage in this," she tugs at the collar of her black hoodie, "and I'm out there spittin and talkin' about things any MC, male or female, wants to talk about."
Ultimately Psalm wants people to look at her the same way she looked at Hill, Queen Latifah, MC Lyte, and Roxanne Shanté — female MCs capable of standing toe to toe with any other MC. If it doesn't work? She's always got a chemistry degree to fall back on. But for now Cristalle Bowen the food chemist is retired. Psalm One the mic chemist has just started.
"That was a dream of mine," Psalm says about her former career. "That's something I went to school for. And I have realized that people don't get to live out one dream in their life, much less two, so I feel like I'm very fortunate, but at the same time, like, um . . . I'm sorry what was the question again?"
— Trevor Fisher