Tama
Star Classic Mirage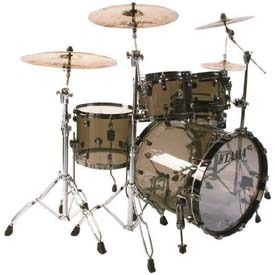 November is International Drum Month, and it gives us a chance to discuss our favorite acrylic drum set of 2006, the Tama Starclassic Mirage, a kit that brings backs memories of Led Zeppelin basher John Bonham's Vistalite (Ludwig) drums from the 1976 film, The Song Remains The Same. Tama updates the "petrol look" with a modern acrylic shell and black nickel hardware that offer the big sound a dedicated minority of drummers still crave. An added tint used to create the "black ice" finish helps give the drums more depth and texture, according to Tama. Updated StarCast mounts have been streamlined to make them more lightweight and allow better tom positioning. Sizes are a fat 20-by-22-inch bass drum, 8-by-10 and 9-by-12 rack toms, and a 12-by-14 floor tom. Also included are two single tom arms and two multi-clamps that allow you to mount two rack toms on cymbal stands. Pricing starts in the $2,200 range for a four-piece kit. Bonzo would be proud. Visit www.tama.com for all the details.
Lakland Music Company
Skyline Duck Dunn Bass
Chicago's very own Lakland Music Company, a hometown bass guitar maker, is now offering a Skyline version (Asian made) of its Duck Dunn signature bass. This guitar has a "P-Bass"-style body with a slim jazz-style neck. Lakland offers two lines: the Skyline series, which is manufactured in Korea, and the U.S. series – handcrafted at the Chicago factory. Though made in Asia, Lakland points out each Skyline bass undergoes a thorough final inspection in Chicago. The Duck Dunn comes with many classic features of the U.S. Series, including necks with pearl block inlay and rosewood fingerboards, plus candy apple red-painted swamp ash bodies. Standard pickups include Lindy Fralin split-coil humbuckers, but the bass also can be ordered with Dark Star pickups. Of course, Donald "Duck" Dunn was made famous in the Blues Brothers films, but his legendary street cred was established playing bass for Wilson Pickett, Otis Redding, and Booker T. And The MGs. For more information, visit Lakland's Web site at www.lakland.com.
Yamaha
EMX5016CF Powered Mixer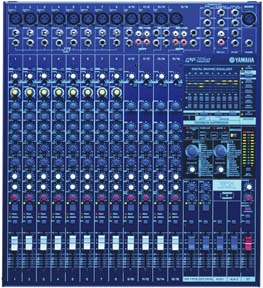 Yamaha's new EMX5016CF Powered Mixer looks darn confusing to a novice at first glance, but when you get down to its nuts and bolts, the company's aim was to make it simple This 16-channel, 500-watt stereo-powered mixer is made for small club and coffeehouse applications. The EMX includes single-knob stereo input compressors, a feedback eliminator, automatic digital graphic EQ, dual-effect engines, and a "Maximize" aural exciter function for the main output. This is the first powered mixer Yamaha has offered with digital automatic EQ and its acclaimed Maximize function. "Maximum" retail price is $1,249, which seems pricey but is somewhat reasonable considering the bevy of features. Visit www.yamaha.com for more information.
Reverend
Flatroc Guitar Giveaway

We're excited to hear one of our favorite indie guitar manufacturers has added local Schaumburg and DeKalb guitar retailer Ax-In-Hand to their retail mix, so musicians can actually test drive a Reverend Guitar before purchasing. Previously, the company's business model was a hybrid of Internet-only sales, which made it virtually impossible to get to know the good Reverend. We're so excited by the news that we'll give a shameless plug to Reverend by mentioning they're giving away a Flatroc tobacco burst guitar! Sign up for their newsletter by Friday, December 1st and you'll be entered in the drawing. The winner will be notified via e-mail and must respond within 24 hours or a new winner will be drawn. The winner's name will be used on the company's Web site, and international winners must cover shipping/duty/customs costs. Sign up at www.reverendguitars.com. Good Luck!
News & Notes
Fat Cat Guitars in Carpentersville is hosting the Instant Guitarification clinic November 17th at 6 p.m. The event will feature guitarist Ravi and focus on multi-track recording and how guitar designs and components work to create uniqe sounds. Visit www.fatcatguitars.com or www.instantguitarification.com for complete details.
– David Gedge