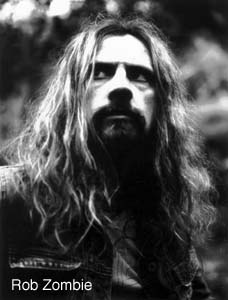 Move over media royalty Howard Stern and Oprah Winfrey, and make way for renaissance rocker Rob Zombie.
The ex-White Zombie frontman has long had his fingers in music, video, radio, movies, animation, and comics – now he's adding TV to his list of conquests as host of Turner Classic Movies' new cult and horror film showcase, "TCM Underground."
It's a natural fit for the former Robert Bartleh Cummings, who won an MTV Video Music Award for directing White Zombie's 1995 hit video, "More Human Than Human." The song, which was penned by Zombie and references the sci-fi cult film Blade Runner, also earned the band a Grammy nomination for Best Metal Performance (they lost to Pearl Jam's "Spin The Black Circle").
The video for Zombie's (now a solo performer) "Living Dead Girl" borrows heavily from classic silent film The Cabinet Of Dr. Caligari, and the video and song "Never Gonna Stop" are sendups to Stanley Kubrick's A Clockwork Orange. In 1996 Zombie animated the psychedelic trip sequence from the film Beavis And Butt-Head Do America. His first feature as director and writer was 2003's *House Of 1000 Corpses, a sendup of '70s slasher movies in which the characters' names were based on Groucho Marx characters (and which starred his wife, Sheri Moon Zombie). Zombie followed it with a 2005 sequel, The Devil's Rejects.
Zombie teamed up with horror-comic star Steve Niles to launch the comic imprint CREEP Entertainment, and a film based on Zombie's comic book series The Haunted World Of El Superbeasto is expected to hit theaters later this year. Next October will bring the release of Zombie's remake of John Carpenter's 1978 slasher classic, Halloween.
He and Sheri also hosted a radio show called "Spookshow International" on L.A.'s alternative station WKLD-FM.
The long-haired rocker has long used samples from cult and horror films in his music, including some from the films he'll screen on "TCM Underground," such as Russ Meyer's Faster, Pussycat! Kill! Kill! and Mudhoney as well as George Romero's Night Of The Living Dead – which can be heard on La Sexorcisto Devil Music Vol. 1.
When the show debuted Friday, Rocktober 13th, Zombie showed the 1959 Ed Wood cult favorite Plan 9 From Outer Space and 1955's Bride Of The Monster. He'll also show the 1932 cult classic Freaks and The Honeymoon Killers – the basis for the new thriller Lonely Hearts.
"We are proud to have a talent like Rob Zombie hosting this showcase, which is certain to broaden TCM's appeal beyond our loyal core audience," said Tom Karsch, executive vice president and general manager for TCM.
They couldn't have found a more perfect host. But one can't help but wonder what's next – a signature fragrance?
The show airs Friday nights at 1 a.m. on Turner Classic Movies; for more visit www.robzombie.com or www.tcm.com.
TWISTED SISTERS: We're fans of two local radio shows produced by women that probably won't be getting picked up by Oprah's new satellite venture anytime soon. And that's a good thing. For a decade the motorcycle talk show "Open Road Radio" leased time on WCKG-FM (105.9). Now co-hosts Gina Woods and Jo Giovanoni – who in 1996 became the fifth woman inducted into the National Motorcycle Hall Of Fame – are paid to broadcast each Sunday from 11 a.m. to noon on north suburban WIIL-FM (95.1). For more on "America's premier motorcycle lifestyle program," see www.openroadra dio.com.
We also like WBEZ-FM (91.5)'s short-but-sweet "11 Central Ave.," a fresh and often funny four-minute radio drama that focuses on an extended Chicago family dealing with issues such as marriage, teen sex, and unemployment. Written by women and performed by actors that make WKQX's "The Morning Fix" sound like the joke it is, "11 Central" airs in the midst of NPR's "Morning Edition" each Friday at 8:35 a.m.
SILENCED: Add Nine FM's Johnny Mars to the ridiculously long list of local radio personalities who've been pushed out in recent months. For those keeping score, it includes his former WXRT co-worker Bobby Skafish; WSRB-FM's Fiona Verde, Mel Devonne, and Jim Raggs; WRLL's Larry Lujack and Tommy Edwards; WKQX's Mancow Muller; WLIT's Melissa Forman; WBBM-FM's Brian Middleton; and WJMK's Dick Biondi, Fred Winston, Greg Brown, and Connie Szerszen. But it has nothing to do with consolidation. Nothing whatsoever.
ODDS 'N' SODS: Local jazz crooner Ramsey Lewis has signed a new five-year contract with Clear Channel-owned WNUA-FM (95.5); starting next year his morning show, which is co-hosted by Karen Williams, will be up for nationwide syndication through Clear Channel-owned Premiere Radio Networks . . . Local old-time radio guru Chuck Schaden, who hosted "Those Were The Days" for decades, has landed a gig as new host of nationally syndicated program "When Radio Was," which airs locally each weekday at midnight on WBBM-AM (780). For more see www.nostalgiadigest.com . . . Fox TV's "Trading Spouses" recently shot an episode in our hometown of McHenry, at the home of Jim Morgan and Stella Kramer. Apparently they traded with a couple in North Carolina. No word yet on when the show will air . . . We are aghast that HBO chose not to renew "Lucky Louie" – one of the freshest, most honest shows to make it onto the small screen in our lifetime. This from the station that flogged dreck like "Arliss" for years. At least it will have afterlife on YouTube.
– Cara Jepsen