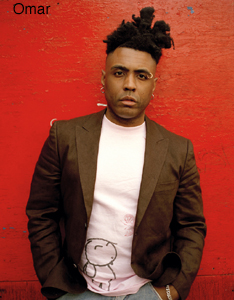 A distinctly American hybrid, soul music traces its illustrious creation to gospel, R&B, and jazz. While classic soul was produced in the '60s and '70s, the '80s and '90s witnessed the neo-soul movement. The British have proven to be much more reverent to American music than Americans; when classic soul gave way to disco in the late '70s, they kept the music (and careers) of icons like Al Green and Bobby Womack alive. In the late '80s, British soulsters such as Sade, Loose Ends, Mica Paris, and Soul II Soul laid out the framework for neo-soul while their American counterparts paid close attention. Artists such as Maxwell, Erykah Badu, and D'Angelo burst into the '90s with music that reflected the style honed by the Brits – classic soul's emotional power delivered with a contemporary twist. The U.S. rightfully claims James Brown as the Godfather Of Soul, but the Godfather Of Neo-Soul title goes to Britain's Omar.
With short locks sticking up on his head, a trademark eyebrow ring, and a silky voice that flows like hot cocoa, Omar Lyefook fits the image of a neo-soul icon. His classic 1990 midtempo groove, "There's Nothing Like This," ushered in the neo-soul movement and set the stage for a bevy of silky-voiced, new jack soul singers. Sometimes called acid jazz in Britain, Omar stood at the forefront of a movement that included Brand New Heavies, Icognito, and Groove Theory. Though his Canterbury brogue and Chinese and Indian Jamaican heritage set him apart from American performers, his buttery vocals and funk-filled arrangements easily translated. Erykah Badu reportedly listened obsessively to his CDs before she blew up and Stevie Wonder famously declared, "When I grow up I want to be just like Omar."
Whether he's labeled a British neo-soul pioneer or an acid jazz icon, Omar's influence on American neo-soul unfolds plainly on his new CD, Sing (If You Want It) (Ether). Besides the soulful crooning, jazz-toned melodies, and hip-hop beats he referenced 16 years ago, there are the appearances by neo-soul favorite Angie Stone, soulful MC Common, and a much heralded Wonder. Tossed with some Latin and afrobeat influences plus a touch of grime, Sing sounds like neo-soul for the millennium.
"I like to mix a lot of styles like Latin, funk, jazz, reggae, and soul," explains Omar. "The older I've gotten, the broader my influences have grown." At 37, he's journeyed a long way from when his primary influences of Level 42, Jeff Lorber, and Wonder (maybe not so far from him) helped him form melodies in music school. Growing up with his father, Byron Lyefook – a session drummer for the likes of reggae legends Horace Andy and Bob Marley, as well as The Rolling Stones, Omar absorbed a musician's sensibility early. He mastered the coronet, percussion, and piano by the time he reached adolescence. As a teen principal percussionist for the Kent Youth Orchestra he was focused on becoming a solo artist. "I had an inclination I'd be a performer when I was touring with the orchestra in Brazil, playing the tympani," he recalls. "I made a big production of it and I got a lot of attention. I could have been an orchestra player but I've always been a bit of a show off."
It seems he has been showing off ever since, gathering a fawning herd of fans in Europe, Japan, and the U.S. along the way. Even though it has been six years since he released his last album, the critically acclaimed Best By Far (Naïve), he has continued to pack concerts and even managed to build a studio in his garden, change labels, and produce other artists in the interim. He has managed all of this without much help from mainstream media or radio airplay. "People at record labels, TV stations, radio stations, are really closed," he says. "They're not bothered about people starting out or who haven't been in the spotlight." Omar sees the popularity of outlets like MySpace and independent labels as a result of big business being out of touch. "There's so much choice now. YouTube is doing something new and it's the same thing with music. People are expressing themselves."
Sing is definitely all about the singer's personal expression, with 14 tracks that glide from classic neo-soul tracks to an upbeat anti-gun anthem to a vintage-sounding tune penned by Wonder. Partly produced by his brother, Scratch Professor (fresh from a Grammy win for producing Damian Marley's Welcome To Jamrock), the CD offers Omar's patented neo-soul sound accented with fresh touches. Stone's strongly brewed vocals figure prominently, acting as the centerpiece for sultry ballad "All For Me" and delivering a flavorful balance to the electronic bassline of "Stylin'." Except for British singer JC Bentley's standout vocal chops on the sizzling "Be A Man," the rest of the CD's spotlight is all on Omar; Wonder's two-second ad lib and a handful of MCs scattered verses barely register over his masterful scatting and singing. The driving percussion and punchy horns of "It's So" represents Omar's recent interest in Fela Kuti's afrobeat tunes and "Ghana Emotion's" Latin jazz vibe vaguely recalls the music of his parents' adopted West African homeland.
Despite his position as a neo soul originator, Omar is a strong advocate for contemporary British music, from grime to British hip-hop. He sees the cultural differences between America and Britain as a big reason for establishing an authentic British sound. "I've been hearing kids say that they can't relate to the American rappers being pushed all the time," he says. "They don't know anything about driving down Sunset Boulevard in a Cadillac. They're fed up with that. In the last year, Channel U has finally started showing local stars. Things are beginning to change."
– Rosalind Cummings-Yeates