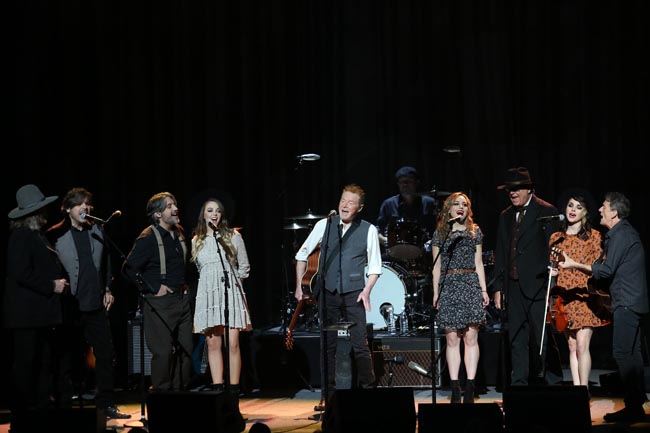 Don Henley
Chicago Theatre, Chicago
Sunday, November 8, 2015
Thus far this century, Don Henley has stayed pretty busy with Eagles tours and the group's occasional recordings, but when it comes to his solo career, the new Cass County (Past Masters Holdings/Capitol Records) marks his first proper project in 15 years. In spite of the lengthy gap, the sophisticated singer/songwriter landed right at the top of Billboard's Top Country Albums chart and #3 for Top Album Sales overall, plus sold out the Chicago Theatre, which turned out to be an ideal setting for the more intimate and introspective nature of this material (as opposed to an Eagles-sized arena or stadium).
Surprisingly, representations from that band ended after the harmony-laden opener "Seven Bridges Road" (technically a Steve Young song, but also a staple of 1980's Eagles Live initial swansong), though considering his bounty of current material and previous list of monster hits, the brave decision was spot on. Over the course of a generous two hours and forty minutes, the smooth singing/sometimes guitar playing Henley, a seven piece core band, three background singers and brass section switched between southern styled newcomers ("Praying For Rain," "Take A Picture Of This," "Words Can Break Your Heart") with thought-provoking acoustic pop from yesterday ("New York Minute," "The Last Worthless Evening," "The Heart Of The Matter").
Regardless of the time frame those tunes were originally recorded, the headliner and his always dependable helpers unified the material with a rootsy vibe that that left additional room to display Henley's gifts as a lyricist. And even at 68, he refused to go through the motions on stage or in the studio, tapping back into an era of straight-up country on the current collection (complete with guests Dolly Parton, Merle Haggard, Martina McBride, Miranda Lambert and even Mick Jagger, amongst others), strained of any glossy pop, rap or bros with backwards baseball caps.
With additional dabblings in jazz, blues and Americana, this tour definitely painted with the broadest brushstrokes of any other in Henley's history, though he also made sure his primary '80s rockers didn't go unnoticed. The tabloid diss "Dirty Laundry" proved just as socially relevant these days, an unexpected remake of Tears For Fears' "Everybody Wants To Rule The World" fit right in, while "The Boys Of Summer" and "All She Wants To Do Is Dance" finally coaxed the mostly seated crowd to their feet. Combine them all with almost the entire Cass County collection, and for the first time in a long time, Henley appeared just as at peace with his past as he was raring to go for the next round.
-Review and photos by Andy Argyrakis
Category: Featured, Live Reviews, Stage Buzz, Weekly