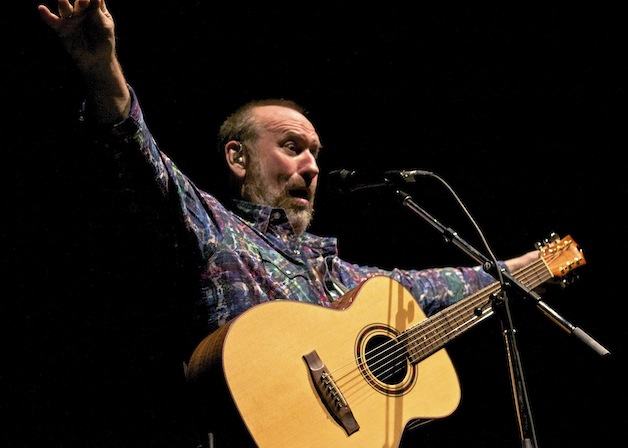 Colin Hay
The Vic Theatre
Saturday, November 6, 2015
Former Men at Work frontman Colin Hay held the crowd at the Vic Theatre in the palm of his hand. The captivated audience hung on every note and every anecdote, as Hay told stories and performed Men at Work and solo material arranged for only his rich, expressive voice and acoustic guitar.
Hay proved to be an exceptional raconteur, with tales behind new songs from his Next Year People album, life on the road, fame, the absence of fame, romance, addiction, and the perils of aging. He reminisced about growing up in his father's music shop and wanting to join the Beatles, moving from Scotland to Australia as a child, and missing the occasional long drives down a wrong road with his mother. Details about his sister's dog, stints in Ringo Starr's All-Star Band, and even a surreal dream about personal hero Bob Dylan were all laugh-out-loud funny, poignant, and connected to Hay's songwriting.
The audience sang along to Men at Work's best known hits including "Who Can it Be Now" and "Down Under." They also demanded solo standouts "I Just Don't Think I'll Ever Get Over You" and "Waiting for My Real Life to Begin." Worthy new material included the melancholy "Did You Just Take the Wrong Way Home," touching character sketch "Mr. Grogan," recriminatory "If I Had Been a Better Man," and Next Year People's defeated but hopeful title cut.
Hay even took a valiant crack at a fan's request for the infrequently performed "I Wish I Was Still Drinking" from 2007's Are You Lookin' at Me album. Hay laughed while stumbling through half-remembered lyrics, pulling what he could from the crowd and humming the rest. He finished the song with cleverly improvised and perfectly rhymed verses about forgetting his own song and being wary of taking any more requests in Chicago.
It was a moment that the crowd took to heart. Far from being an embarrassing misstep, Hay's willingness to go unscripted rallied the crowd even more and earned cheers rivaled only by those for "Overkill." Hay's stunning vocal on that Men at Work classic stopped time in spine-tingling fashion.
Review and photos by Jeff Elbel
_____________________________________________________________________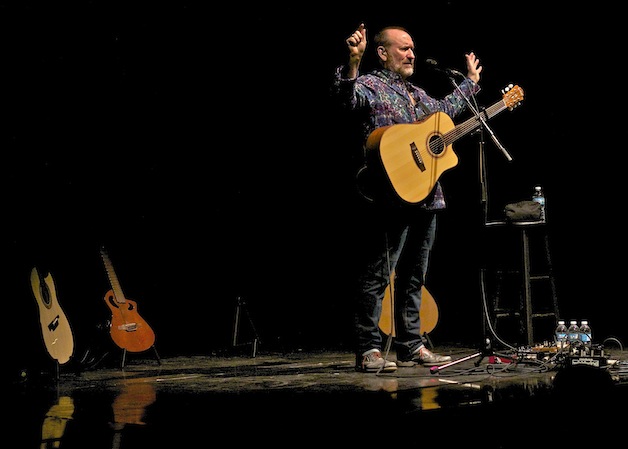 Hello My Name is Colin… (appears in November 2015 IE)
In February 1983, Australian quintet Men at Work won the Grammy award for Best New Artist. The band's 1981 debut album Business as Usual was still a runaway hit on the strength of singles including "Who Can It Be Now" and "Down Under," the latter serving as a quirky celebration of the group's homeland. "And we are the Men, and we'll see you again," frontman Colin Hay had said upon collecting his statue.
The band did return soon afterward with 1983's Cargo, entertaining the fledgling MTV generation with "Dr. Heckyll and Mr. Jive." Hay's writing turned serious with the Cold War concerns of "It's a Mistake" and the crippling uncertainty of "Overkill."
Hay was clearly a powerful songwriting force, but shortly after 1985's Two Hearts, internal tension and waning public interest brought the band to a halt. That's when things got interesting for Hay. In another universe, Hay might have received another Best New Artist trophy for his fresh start with 1987's Looking for Jack. The album didn't gain traction, despite compelling songs. Hay thinks the commercial slide may have been inevitable.
"Men at Work had such incredible saturation," says Hay. "People played the shit out of those records. Anything I did afterward was probably not going to work, because there had to be some kind of backlash."
Hay stuck to his guns and slowly developed a rare and astonishing second act as a solo artist.
To many who have followed Hay's lengthy career, the quiet heartbreak of 1998 single "I Just Don't Think I'll Ever Get Over You" is an even more revealing masterstroke than "Overkill."
Actor and director Zach Braff provided a key catalyst by featuring "I Just Don't Think I'll Ever Get Over You" in the 2004 film Garden State. "It was fantastic for me, because it opened up a whole new audience," says Hay. "I could have taken that song to radio stations and they wouldn't have touched it with a ten-foot pole. It's too long. It's slow. It's mournful. But it's the context in which people encounter it. Zach thought, 'If people are exposed to this music, they'll respond to it.'" Hay himself appeared alongside Braff in television's hospital satire Scrubs.
The yearning "Waiting for My Real Life to Begin" is another standout solo track that resonates with listeners who have second-guessed past steps and wished for an elusive break. Hay describes the pitfalls inherent in such hopes.  "The whole idea is you really can't wait for it, " he says. "You have to take action. It's only then when it actually starts to happen, because you're not being concerned about what occurred 20 years ago, or what's going to happen down the line."
August saw release of a documentary about Hay's unique trajectory called Colin Hay: Waiting for My Real Life. The film describes the transition from Men at Work's success into Hay's solo work and perseverance through relative obscurity. Despite hard times, doubt and self-destructive habits, the story culminates in respect and rebirth. The film recently premiered at the Melbourne International Film Festival in Australia. Hay anticipates screenings across North America during the coming months.
"The arc goes from riches, to walking in the wilderness, to getting some kind of foothold in the present," says Hay. "I think it shows the idea that creativity can be your salvation. It replaces addictive behavior, if you let it. When I was trying to give up the drink, my guitar was always waiting for me in the corner. When I stopped drinking, I went out on the road. It was the only thing I could think of doing."
The title track of Hay's newest album Next Year People examines others who struggle through adversity, banking upon the inevitability that life will get better. It applies to Depression-era farmers in the photo on the album's artwork, and might reflect in a smaller way upon Hay's own journey. Hay was inspired by Ken Burns' 2012 PBS documentary The Dust Bowl.
"When I was watching that a couple of years ago on tour, what struck me was that blind optimism, thinking, 'Okay, next year is going to be different.' It wasn't, for 10 years. Madness ensued, and blindness, lung disease, death and famine. Horrendous things happened in many different states, and people just kept going. Unbelievable."
"I don't know that there's really a correct answer for what causes that. I think it truly can be optimism, but it can also just be grim determination. It can be stupidity, or addiction. You think, 'I've been doing this for so long, I'm just going to keep doing it because I'm scared of doing something else.'"
"I Want You Back" skirts melancholy territory not so distant from "I Just Don't Think I'll Ever Get Over You." "I think my natural state is to be melancholy, which is not particularly healthy," says Hay with an honest laugh. "You have to be careful."
– Jeff Elbel
To read the full story with Colin Hay – pick up our print edition or read the mobile edition HERE.
Category: Featured, Stage Buzz, Weekly