The Rolling Stones
Steel Wheels Live: Atlantic City, New Jersey
(Eagle Vision)
The Rolling Stones hit the road in 1989 like they had something to prove. It was the British juggernaut's first North American run in eight years, and the band was keen to make a good showing for the solid work heard on their Steel Wheels album following lackluster reception for Dirty Work (the product of a strained relationship between Mick Jagger and Keith Richards in the mid-80s). By the time the tour arrived in Atlantic City for three shows at the Convention Center, the rejuvenated Stones were four months along and finely tuned. The generous setlist ran two and a half hours and boasted top-tier guests. The three-night Atlantic City residency also marked the conclusion of founding bassist Bill Wyman's final American tour with the band.
Originally filmed for a live pay-per-view event, the concert begins with the clarion guitar riff of "Start Me Up." It's striking how youthful the band appears on film, with the players in their mere 40s (aside from Wyman, spry at 53). Richards leads with a kick at head height and Jagger bristles like a live wire. The band itself was 27 years old at the time and has continued for 31 years since.
Five Steel Wheels tracks are featured in the film, including the rowdy reconciliation of #5 single "Mixed Emotions" and Richards' solo spotlight "Can't Be Seen." Richards and Ronnie Wood intertwine sinewy blues licks during "Sad Sad Sad." "How d'you like the new songs, okay?" asks Jagger after playing the socially-conscious "Rock and a Hard Place." "We need some new songs," he adds. "We can't just keep recycling old ones." The Stones' enthusiasm for its fresh cuts and the audience's reception suggest that the band had fuel in the tank as active songwriters, although it would be another five years until the release of Voodoo Lounge.
Early-career favorites include 1966's "Paint It Black" with Richards' Spanish guitar licks, as well as the alienated psych-pop of "2000 Light Years from Home." "Here's a romantic song you can hold hands-on," says Jagger, appearing in a golden frock coat to introduce the 1966 baroque pop single "Ruby Tuesday." Jagger's harp ignites the gritty boogie "Midnight Rambler." Charlie Watts' drumming throws sparks during the taut and jagged "Undercover of the Night." Former Faces guitarist Wood plays a stinging roots-rock solo in "Tumbling Dice," putting his own stamp on a song originally recorded for Exile on Main Street by venerated predecessor Mick Taylor.
Jagger describes sharing a bill with a band in Los Angeles. "They've been sort of following us around ever since in a beat-up old van." Axl Rose and Izzy Stradlin of Guns 'n' Roses then make high-octane guest appearances, joining the fray during the Stones' first-ever performance of Beggars Banquet's "Salt of the Earth." "You like the sashay?" Jagger asks the crowd afterward, referring to Rose's signature sway. Eric Clapton was also riding high at the time with his Journeyman album. Slowhand trades slow-burning guitar licks with Jagger's harmonica during Willie Dixon's Chicago blues staple "Little Red Rooster." Clapton sticks around as Jagger welcomes "childhood hero" John Lee Hooker, who joins the band for a ramble through his signature song "Boogie Chillen."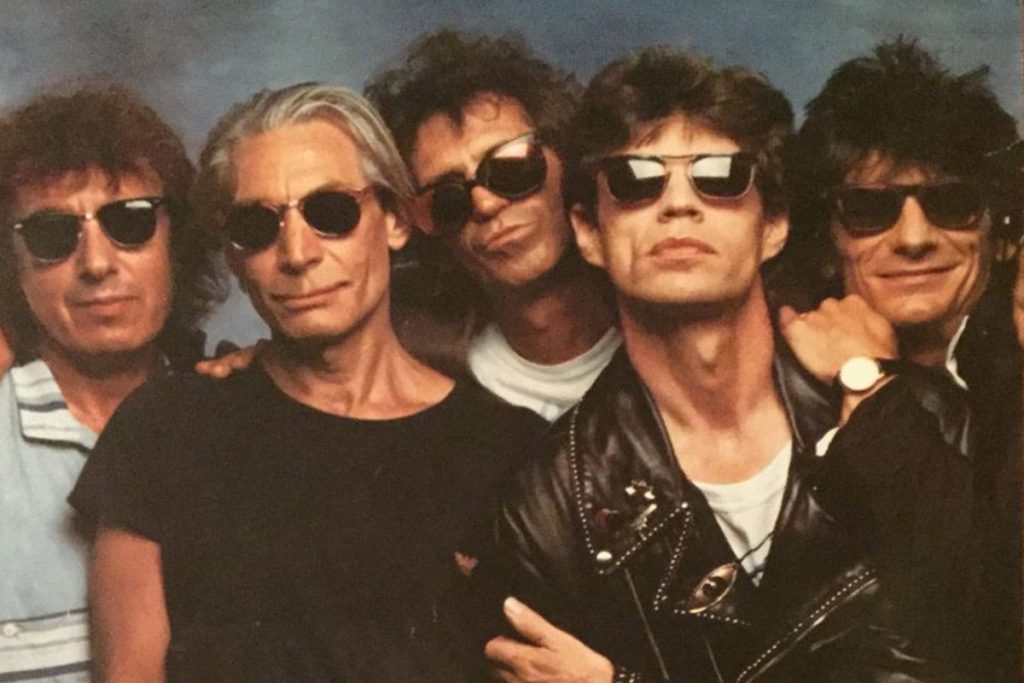 Short-timer Wyman drives the low funk of Dirty Work's "Harlem Shuffle" (by 60s soul duo Bob & Earl) and the disco pulse of "Miss You." Almost immovably stoic, Wyman does crack a rare smile when clowning with Lisa Fischer during "Sympathy for the Devil" and again when Jagger collars him and drags him to the rim of the stage during "It's Only Rock and Roll (But I Like It)." It's unfair to pick on a band trying to look cutting edge in the 80s, so the Stones get passes for the shoulder-padded jackets and pastel colors.
The only snobby critique goes to the impassive Wyman, as bassist for the world's most influential American electric blues torchbearers and with access to the most enviable of vintage instruments. He chooses a white Steinberger bass for what he decided would be his final tour. The oddball instrument could have looked stylish at Fixx or Devo gig, but it's not an instrument any rock and roll revisionist will be desperate to unearth at a rural pawn shop. And although his bandmates swapped guitars nearly every song, Wyman plays his unhip but reliably stable instrument for the entire show. There's not a Fender Jazz, Vox Teardrop, or Gibson EB-3 insight. It's a ridiculous rant, of course, because Wyman's fingers never falter.
The Stones' expanded lineup provides excellent support. Saxophonist Bobby Keys adds grease to "Honky Tonk Women" (while a giant inflatable doll straddles Jagger). Lisa Fischer takes her star turn alongside Jagger for a spine-tingling "Gimme Shelter." Bernard Fowler provides a robust voice to "Mixed Emotions" and the slinky "Miss You." The Uptown Horns punctuate songs, including "Bitch" and Richards' "Happy." Chuck Leavell adds sparkling piano to "Tumbling Dice." The native Georgian propels "Sympathy for the Devil" as the industrial urban stage erupts into eerie red light, and Richards peels off stinging licks in rapid-fire. The fans get in on the act, too, as the 16,000 seat Convention Center becomes an intimate venue for a stirring singalong during "You Can't Always Get What You Want." Matt Clifford's shimmering organ joins Leavell's piano as the song builds toward its Gospel-styled climax.
The show concludes with the one-two-three punch of the saucy "Brown Sugar" (another sax feature for Keys), Richards' snarling riffer "(I Can't Get No) Satisfaction," and the crossfire hurricane of "Jumpin' Jack Flash." The Blu-ray package includes concert audio on two CDs, along with a booklet containing liner notes, quotes from Jagger and Richards, and photos.
– Jeff Elbel
7 of 10