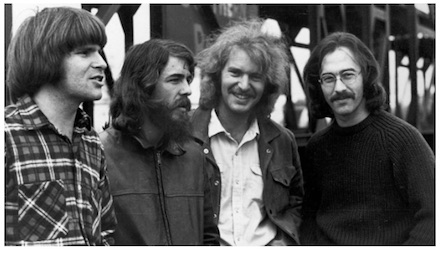 Creedence Clearwater Revival
Cosmo's Factory
(Craft)
In a brief career littered with highlights, most fans point to CCR's fifth album as its best. Cosmo's Factoryarrived in July 1970 with a feel-good country-folk single "Lookin' Out My Back Door." The LP produced six top-ten hits and spent nine weeks atop the Billboard albums chart, toppling chart rivals including the Beatles' swan-song Let it Be, the Who's Live at Leeds, the Woodstock soundtrack, and Blood, Sweat & Tears. Perhaps as a reaction to being typecast as a lightweight singles band, CCR begins the album with seven minutes of intoxicating psych-pop/rockabilly interplay in "Ramble Tamble." The album reveals a wide range of influences, including side two's 11-minute exploration of Marvin Gaye's soulful "I Heard it Through the Grapevine." Bo Diddley's "Before You Accuse Me" represents the band's blues roots. Roy Orbison's "Ooby Dooby" testifies further to CCR's love of rockabilly.
With John Fogerty's feral blues shouts #2 single "Travelin' Band" rates alongside "Fortunate Son" from prior album Willy and the Poor Boys, one of the band's most bracing rockers. Fogerty returns to politically motivated fare with the menacing "Run Through the Jungle," featuring a hypnotic swamp-rock groove driven by drummer Doug "Cosmo" Clifford. "200 million guns are loaded, Satan cries, 'Take aim!'," sings Fogerty, referring to the 1970 statistic that there were enough guns to supply every man, woman, and child living in the USA. The rousing #4 single "Up Around the Bend" features Fogerty's clarion guitar riff and rich harmonies with brother Tom Fogerty and bassist Stu Cook in a celebratory anthem of togetherness. The shimmering folk-pop single "Who'll Stop the Rain" describes melancholy and frustration with the powers-that-be that travels from the past into the then-present, drawing inspiration from Vietnam protests and Fogerty's experience in the downpour at 1969's Woodstock festival. The Gospel delivery of "Long as I Can See the Light" describes a weary figure determined to persevere as long as his eyes are fixed on his source of hope–whether found in the divine or the comforts of home.
Craft has partnered with boutique record presser Vinyl Me, Please to produce a limited edition, half-speed mastered, translucent blue 50thanniversary LP on 180-gram vinyl. Craft celebrates the album's 50thbirthday with stylish simplicity and attention to the important details in the artwork and, most importantly, the music itself. Cosmo's Factory remains a remarkably resilient album that stands up to repeated play for any fan of alt-country, roots-rock, or Americana. 
– Jeff Elbel
9 of 10