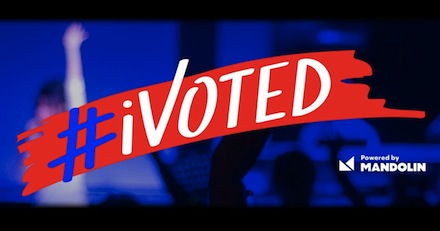 HeadCount presents the #iVOTED Festival Stage livestream featuring appearances and performances from over 600 artists, including Colin Meloy of The Decemberists, Drive-By Truckers, Billie Eilish, Jim James of My Morning Jacket, Dave Hause, Julien Baker, Chris Thile, Bowerbirds, Disq, My Brightest Diamond, Max Pain and The Groovies, Ramesh, Roger Harvey, Sammi Lanzetta, Saves the Day, Songhoy Blues, Taking Back Sunday, Thao & The Get Down Stay Down, The Polyphonic Spree, The Dresden Dolls, and many more. Tune in Tuesday, November 3rd, at 6 PM. The event is free. All you have to do is RSVP here.
Hanson celebrates 20 years together by performing cult classics and rare deep cuts during their Perennial – A Hanson Net Collection livestream Thursday, November 5 thru Friday, November 6th at 7 PM. You can still get tickets here.
Paradise Lost performs live from their rehearsal studio The Mill Thursday, November 5th at 3 PM on StageIt. The band will premiere two new songs during their regular set. The VIP package includes an interview with the band and three extra songs. Get tickets here.
Join Nine Inch Nails ahead of their Rock & Roll Hall of Fame induction for a conversation with journalist and director David Farrier on Friday, November 6th at 1 PM. Tune in for free on YouTube and Facebook.
Phish's Trey Anastasio continues his "The Beacon Jams" virtual concert series from New York City's Beacon Theatre Friday, November 6th, on Twitch.
Story of the Year performs its 2003 album, Page Avenue, in full this Friday, November 6th at 7 PM. Buy tickets here.
GZA celebrates the 25th anniversary of his 1995 album Liquid Swords with a performance at New York's Le Poisson Rouge as part of the LPR.tv series Friday, November 6th at 8 PM. Find tickets here.
Rufus Wainwright continues his "Rufus-Retro-Wainwright-Spective" with Want One part one, Friday, November 6th, at 4 PM. Tickets available here.
Greet Death will perform from Lincoln Hall as part of "AudiotreePresents: Staged Series." Tune in Friday, November 6th, at 8 PM. You still have time to buy tickets here.
Niall Horan will perform songs from his albums Heartbreak Weather and Flicker from London's Royal Albert Hall to benefit his touring crew Saturday, November 7th, at 7 PM. Get tickets here.
Kylie Minogue will play songs from her upcoming album Disco, along with her classic hits during her global livestream show "Kylie: Infinite Disco" Saturday, November 7th at 7 PM. Tickets are on sale now.
Obituary performs "rare classics and "special tracks" from their Gibsonton, Florida studio Saturday, November 7th at 4 PM. Find tickets here.
Patty Griffin kicks off her streaming residency from Austin's The Continental Club this Saturday, November 7th. She'll also be streaming shows on November 21st and December 5th. A portion of the proceeds will benefit 18 independent venues around the country. All three shows start at 8 PM. Get tickets here.
Watch Emmylou Harris & Friends perform from New York's Music City Wine Garden Monday, November 8th, and Tuesday, November 9th, at 7 PM. Find tickets here.
– Ashley Perez Hollingsworth
Category: Featured, Livestreams, Weekly