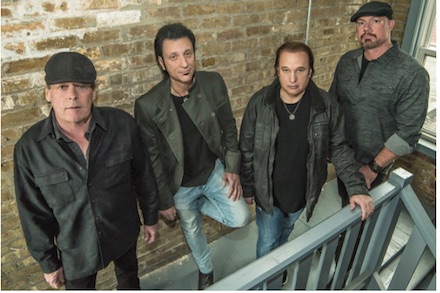 Combining savvy songwriting rooted in power-pop and glammy metal, The Outfit is breaking the mold for local music veterans. Over two albums, they've managed to not only defy the sophomore slump, but they've also shown that educated music stalwarts can still have something to say.
The band features a group of seasoned Chicago musicians, including brothers Mark (drums) and Matt Nawara (guitar), Mike Gorman (bass), and Andy Mitchell (vocals/guitar). Their second full-length album, Viking, was recently released on Pavement Entertainment, of which Mark happens to be the President/CEO.
Tracked at Chicago's Sonic Palace studio with Matt Mercado, and mixed by multi-platinum producer Ulrich Wild (Breaking Benjamin, Static-X), the album's overall sound is massive and melodic. From the explosive opener "Come Alive" to the power-pop rocker of album closer "Sitting Here Alone," Viking is loaded from front to back with infectious, singalong tunes.
According to Mark, the writing and recording process for **Viking took a while to finalize. "It took us about a year and two months to complete the album," he said. "We just kept writing and filing the songs in the midst of doing shows over the last year. We didn't want to screw with the process too much because we really liked the way the first record came out."
Their writing process is a little unusual compared to some bands, due to the geographical location of lead singer Andy Mitchell, who lives in Arizona.
"The way we write, basically, is that Andy will come up with the melody and some parts, and then he'll send it to me," Mark began. "Then I'll put some drums to it, send it back to the guys, and then everybody else puts their two-cents in. Then we all put it together. That's pretty much how we did the first record and we kept it the same (on the new album)."
With ten tracks, the album has a compact 36-minute runtime allowing the listener to get in and get out comfortably. "I just think the perfect album is ten songs," Mark said. "The songs are just the way we write them, the way we tend to do them [live]. They [all] ended up being three minutes and 20 seconds. It wasn't really planned. I think the perfect album has a running time of about 35 minutes, no more than 40 minutes, and it's an enjoyable experience, hopefully, to listen to it."
From The Outfit's debut gig at RocHaus in West Dundee in 2018, they have come full circle and were about to headline the venue again for the album release party on April 24. However, due to the COVID-19 pandemic, the band recently rescheduled the event for October 17.
"The first date (in 2018) was a surprise to us," Mark admitted. "It was a really successful show. We had probably 300 people there, which was amazing for a first time show because no one really knew who we were. We put the (debut) record out in February, so to get a buzz from that show was cool."
Since that show, the band has been gigging as much as possible and steadily gaining a more extensive fan base while garnering more recognition in the local scene. "We've been doing a lot of gigs since the first album came out," Mark confirmed. "In 2019, we did a lot of shows, some with (fellow local rockers) Soil. We did the Rock USA festival out in Oshkosh, WI. We opened for Saving Abel up in Minnesota. I think in 2018, we did maybe 12 or 13 shows, and in 2019, we did probably 15 shows. We're trying to get out there and spread the word as much as we can. It just seems like everything keeps progressing and moving forward."
However, with the uncertainty of the world due to Covid-19, especially with the entertainment industry as a whole, The Outfit is just taking it one day at a time until the band can get back to business. "I'm taking it day by day, and I'm very thankful that everyone in my family and circle of friends is healthy right now," Mark concluded. "I do believe that better days are coming. We all need to stick together."
The Outfit even managed to create a new video for "Sitting Here Alone," made from their homes during the stay at home order. Visit https://youtu.be/iqgG-_TRPSo to view it now. 
Appearing Live: November 21 at WC Social Club and streaming thru November 24th.
– Kelley Simms