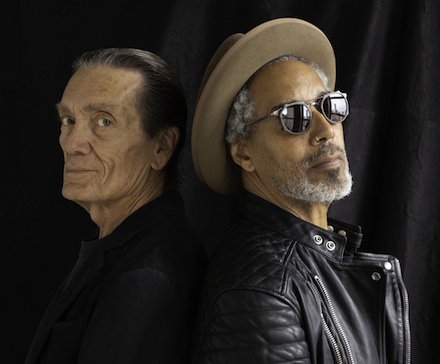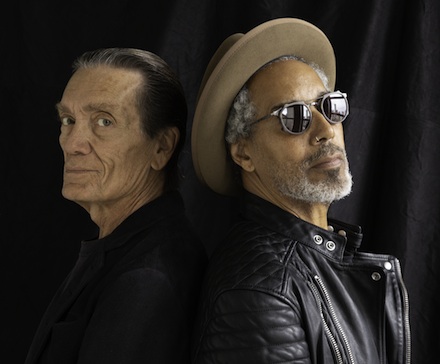 Nothing But Thieves will perform three unique sets across two days for their "Live From the Warehouse" event. The shows kick off Wednesday, October 28th, followed by two shows on Thursday, October 29th. Tickets available here.
Motionless in White will perform Creatures in its entirety Wednesday, October 28th, at 4 PM. Tickets are available here.
FEVER 333 continue their virtual demonstration tour from New York on Wednesday, October 30th at 8 PM. Get tickets here.
Blues and rock legends G.E. Smith and Leroy Bell will perform their new album Stony Hill during a special livestream presented by BMG and Veeps Friday, October 30th at 7 PM. A portion of the event's proceeds will be donated to Lamont-Doherty Earth Observatory, an earth sciences research unit of The Earth Institute at Columbia University. Make sure you get tickets here.
Puscifer will play their new album, Existential Reckoning, in its entirety live from Arizona's Arcosanti desert Friday, October 30that 5 PM. Tickets are on sale now.
Heavy metal goblins GWAR will celebrate the 30th Anniversary of their 1990 release, Scumdogs of the Universe, performing it from front to back during their "Scumdog XXX Live" event Friday, October 30th at 7 PM. Tickets and merch bundles available here.
Sam Smith celebrates his new album, Love Goes, with a virtual show from Abbey Road Studios. Joining Smith as he performs new songs and old favorites and holds a Q+A with fans on Friday, October 30th at 3 PM. Get tickets here.
Chicago industrial festival Cold Waves returns for "Season of the Glitch," a Halloween livestream featuring new performances and videos from Test Dept, Gost, Contracult Collective, Twin Tribes, Consolidated, and more. Tune in for free on Friday, October 30th8 PM on Twitch.
Rufus Wainwright continues his "Rufus-Retro-Wainwright-Spective" series with "Poses Part 2″ on Friday, October 30th at 4 PM. Grab tickets here.
Spend Halloween weekend with The Crystal Method live from Las Vegas, featuring visuals from MELT Creative Team. The show goes live on October 30th at 9 PM. Buy tickets here.
The Duke of Spook Wednesday 13 celebrates Halloween in style with his Halloween Spooktacular! Live from the famous Whisky A Go Go, the night features skits, special guests, videos, and a special headline performance from Wednesday 13 himself. Tune in Saturday, October 31st, at 5 PM. Grab tickets here.
Tune in to Code Orange's "Back Inside the Glass" concert, featuring special guests Jesus Piece, Machine Girl, and Year of the Knife Saturday, October 31st at 3 PM. Get tickets here.
Mr. Bungle's "The Night They Came Home" virtual live concert experience goes live Saturday, October 31st, at 2 PM. Get tickets here.
Animal Collective's visual album ODDSAC turns 10 this year, and to celebrate, the band will host a streaming party on Halloween night at 8 PM. Join the band for the film screening along with a welcome set by Geologist, DJ sets from Avery Tare, Deakin, and Panda Bear. There will also be cast and crew interviews and a Q+A with director Danny Perez. You can still get tickets here.
– Ashley Perez Hollingsworth
Category: Livestreams, Weekly