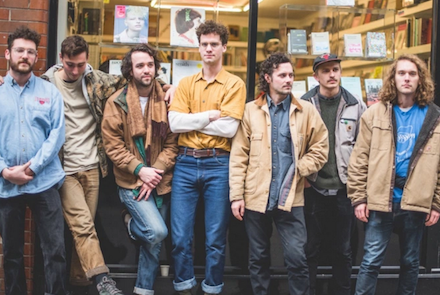 Summer may be over, but festival season is still alive in the virtual world. From major festival celebrations to intimate performances, here are the livestreams you should be checking out this week.
This week on "Dave Matthew's Drive-In," the band will broadcast their 2019 show from Saratoga Performing Arts Center in Saratoga Springs, NY to celebrate National Voter Registration Day. The show airs on September 22nd at 7 PM. Tune in for free here.
Fleet Foxes celebrate the release of their new album, Shore, with a stream of its accompanying 55-Super 16mm film of the same name, directed by Kersti Jan Werdal. Tune in September 22nd at 8:31 AM or "13:31 universal coordinated time, the autumnal equinox" to watch the film on their website.
The Plain White T's continue their weekly livestream series, "The Wednesday Club," where they perform a setlist filled with fan-requested songs. The band goes live on September 23rd at 7 PM on Facebook.
Join Devendra Banhart for the third installment of his "OLA: Devendra Banhart Sings Songs In the Order They were Written" livestream series on September 23rd, featuring songs from What Will Be and Mala. The show will air three times, starting at 8 PM, with the rebroadcast available for 24 hours. Find tickets here.
Local band Whitney follows up their previous drive-in shows with two livestream shows from Evanston's SPACE on September 23rd and September 30th at 8 PM. You can still grab tickets here.
Sonic Youth's Thurston Moore will perform live from Rough Trade East in London to celebrate his new album By The Fire Thursday, September 24th at 2 PM. Ticket purchases come with a copy of the new LP, so grab yours here.
Bonaroo presents "Virtual Roo-Ality," a three-day festival featuring classic sets from past headliners and over 35 new performances. The lineup features past performances from The White Stripes, Metallica, The xx, My Morning Jacket, Dave Matthews, and more. Catch new performances from Jamila Woods, Ashley McBryde, Nathaniel Rateliff, David Lynch, Adrian Belew, Denzel Curry, Tank and the Bangas, RMR, St. Paul and the Broken Bones, the Resistance Revival Chorus, and more. There will also be panels from Hayley Williams and food-themed activities from Big Freedia and Action Bronson. The event kicks off September 24th at 3 PM and wraps up September 26th. Tune in for free on YouTube.
Lydia Loveless will host a record release show from a secret studio in Columbus, Ohio, where she'll play her entire new album, Daughter, with a full band. Tune in September 24th at 8:30 PM. Get tickets here.
Modern English will celebrate their 40th Anniversary by performing their 1982 album, After the Show, in its entirety. Filmed at Indigo at the O2 in London and featuring projections and artwork from Vaughan Oliver, who designed art for the album, the show will air live at 7:30 PM on September 25th and 10: 30 PM on September 26th. Tickets are on sale now.
Pitchfork celebrates some of the outstanding performances in Pitchfork Music history with "The Best of Pitchfork Music Festival" livestream and drive-in event. The festival includes rare and archival footage of Angel Olsen, Beach House, Big Thief, Blood Orange, Carly Rae Jepsen, Charli XCX, Danny Brown, FKA Twigs, Grimes, Jamila Woods, Kamasi Washington, LCD Soundsystem, Mitski, Perfume Genius, Rico Nasty, Robyn, Run the Jewels, Solange, and Wilco, as well as surprise guests. The festival will stream on Pitchfork's YouTube channel on September 26th at 6 PM. The festival will also screen live at The Drive-In at Hotel Figueroa in Downtown Los Angeles on the same day. Tickets are currently sold out.
Farm Aid presents "Farm Aid 2020 On the Road," a virtual version of Willie Nelson's annual benefit concert for farmworkers. This year's lineup features John Mellencamp, Dave Matthews, Bonnie Raitt, Brandi Carlile, Chris Stapleton, Jack Johnson, Jon Batiste, Margo Price, Nathaniel Rateliff, Neil Young, Willie Nelson, and more. Listen, watch, or stream the festival for free on Saturday, September 26th at 7 PM. Get all the details here.
The 2020 Monterey Jazz Festival celebrates its 63rd Anniversary with a free virtual event featuring new and previously unreleased archival footage from Herbie Hancock, Regina Carter, The Berklee Institute of Jazz & Gender Justice Quintet, Christian McBride & Inside Straight, Diane Reeves, Lila Downs, and more. The three-day festival kicks off Friday, September 25th, at 7 PM on YouTube. Get all the details here.
Metalheads Darkest Hour will commemorate their 25th Anniversary with a special livestream from The Black Cat in Washington, DC on September 25th at 6 PM. Tickets and merch bundles are available here.
– Ashley Perez Hollingsworth
Category: Livestreams, Weekly