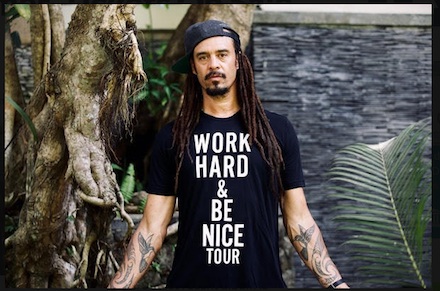 Emmylou Harris and Friends host an intimate performance benefiting Bonaparte's Retreat and Crossroads Campus on September 29th and 30th. Joining Harris are Sam Bush, John Randall, and Byron House. Grab tickets here.
AWOLNATION performs live from The Wiltern in Los Angeles on September 30th at 8 PM. Get tickets and merch bundles here.
Nathaniel Rateliff and Kevin Morby will perform live from Red Rocks to benefit MusiCares, a foundation that helps music people in times of need. Stream the show Wednesday, September 30th, at 7 PM. Tickets are available here.
Devendra Banhart continues his "OLA: Devendra Banhart Sings Songs In the Order They were Written" livestream series on September 30th, featuring songs from Ape in Pink Marble and Ma. The show will air three times, starting at 8 PM, with the rebroadcast available for 24 hours. Find tickets here.
Oculus presents an out of this world VR show from Steve Aoki on September 30th at 8 PM. Check it out here.
Local Chicago band Whitney livestreams night two from Evanston's SPACE on September 30th at 8 PM. You can still grab tickets here.
Tune in for Michael McDonald's "Home Alone: A Special Solo Concert" livestream on Wednesday, September 30th at 7 PM. McDonald will perform songs from his catalog along with tracks from the Doobie Brothers and "maybe a cover or two and the stories behind them." Get tickets here.
Corey Taylor celebrates the release of his debut album, CMFT, with his "Forum Or Against Em" show, live from The Forum in Los Angeles on October 2nd at 4 PM. Not only will Taylor perform the new album in full, but he'll also perform select cuts from Slipknot and Stone Sour. There will also be a special performance from rock 'n roll dance squad The Cherry Bombs. You can still get tickets here.
Melanie C (aka Sporty Spice), will preview tracks from her new album, Melanie C, as well as a preview of her upcoming live show in her "Colour And Light Stream" special performance. Tune-in October 1st at 7 PM. Find tickets here.
Enslaved hosts a virtual release show for their new album Utgard on Thursday, October 1st at 2 PM on YouTube. Watch for free here.
"Which Side Are You On? Voices for Kentucky and Beyond" is a free virtual music festival that informs Kentuckians and all Americans about voter registration, voter eligibility, and voting deadlines. Watch performances from Jim James, S.G. Goodman, Chris Thile, Nappy Roots, Jason Isbell, Bright Eyes, Phoebe Bridgers, Better Oblivion Community Center, Ben Sollee, Joan Shelley and Nathan Salsburg, Becca Mancari, and archival footage of John Prine and Kelsey Waldon, and more. It all goes down Thursday, October 1st, at 7 PM. Register for your chance to watch here.
Cults will stream their release party for their new album, Host, on October 1st at 9 PM. Check it out here.
"Democracy Comes Alive" is a one-day virtual festival to encourage people to get out there and register to vote. The lineup includes performances and appearances from Bruce Hornsby, Shawn Colvin, Bob Weir, Michael Franti, Billy Strings, Warren Haynes, Jon Fishman, and more. Watch the free event Saturday, October 3rd, here.
Join Guitar.com for their free three-day "Guitar.com Live" festival featuring performances, workshops, masterclasses, interviews, panels, giveaways, and more. The lineup includes St. Vincent, Jason Isbell, John Petrucci (of Dream Theater), Carlos Santana, Marty Friendman (formerly of Megadeth), The Free Nationals, IDLES, Vernon Reid (of Living Color), Mrs. Smith, Heather Trost, and more. The festival kicks off October 2nd and wraps up October 4th. Tune in here.
– Ashley Perez Hollingsworth
Category: Columns, Livestreams, Weekly