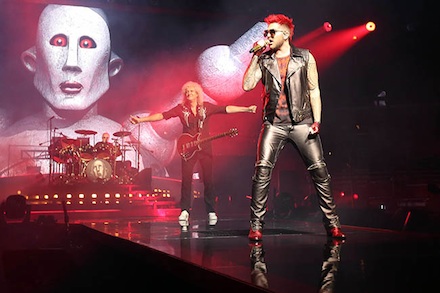 Queen + Adam Lambert
United Center, Chicago
Thursday, July 13, 2017
By sheer coincidence, Queen + Adam Lambert's latest visit to another sold out United Center just so happened to fall on the exact same date of Live Aid 32 years ago. Of course, that "global jukebox" featured Queen with its late front man Freddie Mercury, who completely stole the show at Wembley Stadium and reinforced an already legendary foundation to an international audience long before the internet's existence.
Many consider that moment the ultimate performance peak for the illustrious rockers, and considering no one could hold a crowd in the palm of their hand like Mercury, it wasn't all that surprising when he earned louder applause every time he was shown on the big screen than those standing in the flesh on stage. No, it's not the same band same these days with bassist John Deacon retired and just guitarist Brian May with drummer Roger Taylor leading the charge alongside the American Idol alum turned solo singer/songwriter stepping into those impossible-to-fill shoes, but that didn't mean the trio didn't rise to the occasion as best as humanely possible.
In fact, Queen + Adam Lambert took the essence of everything that made the band so fantastic and bombastic back in the day and channeled it through their own chemistry together from a fresh perspective. Sure, Lambert's flamboyant and outrageous approach will garner comparisons to the man he inherited the microphone from (and he was clearly even more over the top when came to having more costume changes than Cher and a stage persona that oozed with uninhibited sexuality), but make no mistake, this incredibly extroverted entertainer also has some killer rock n' roll pipes.
And now that he's had the job officially since 2011 more or less, he's become quite comfortable with the complicated material, accenting the all classics and some deeper tracks with his own vocal nuances rather than trying to merely mimic Mercury (which viral sensation and artist in his own right Marc Martel does flawlessly by the way in the officially-sanctioned Queen Extravaganza). Indeed, Lambert demonstrated that dynamic range time and time again on tunes as widespread as the monstrous "Stone Cold Crazy," the soulful "Another One Bites The Dust," the swinging "Crazy Little Thing Called Love" and the practically operatic "Who Wants To Live Forever."
In addition to hammering the beat for two solid hours, Taylor also took his turn on vocals for the joyfully cheeky "I'm In Love With My Car," and later, filled in fairly steadily for David Bowie while volleying with Lambert on "Under Pressure." May also slayed pretty much every note on the six-string and sung with a virtual Freddie during "Love Of My Life," while later paving the way to "Radio Ga Ga" (said to be the inspiration for Lady Gaga's surname) with a sweltering solo.
However, nothing summarized the grandiose ethos of Queen more than "Bohemian Rhapsody," which began with Lambert on lead, followed by a cape-clad May popping out from below the stage, and ultimately, Mercury leading the chorus above them all. It definitely wasn't Live Aid, but for those who've waited their whole lives to see who they could from Queen or even old-timers hoping to reconnect with its colorful catalogue in a concert context, few could argue that when it came to July 13, 2017, Queen + Adam Lambert were the champions on the exact same court where "We Will Rock You" helped lay this very venue's victorious foundation.
-Gallery and review by Andy Argyrakis
Category: IE Photo Gallery, Live Reviews, Weekly