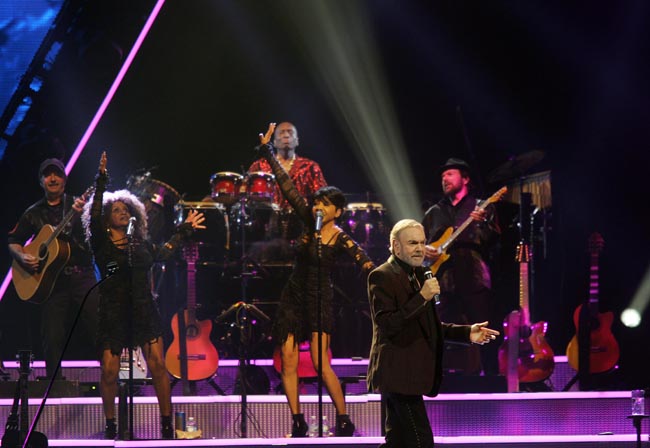 United Center, Chicago
Tuesday, April 14, 2015
With more than 125 million album sales, 37 Top 40 singles, plus membership in the Rock and Roll Hall of Fame and Songwriters Hall of Fame, there really isn't much left for Neil Diamond to accomplish in terms of tangibles. Nonetheless, the Grammy Award winner has experienced quite the creative renaissance over the past decade returning to his singer/songwriter roots, including 2008's chart-topping Home Before Dark (his second produced by frequent Johnny Cash collaborator Rick Rubin) and continuing with last year's Melody Road under the production of Don Was (The Rolling Stones, Van Morrison, Willie Nelson) and Jacknife Lee (U2, R.E.M., Weezer).
Though there was a hearty sampling of newer material on Tuesday night at the United Center, chances are the bulk of those who helped sell it out came to hear the hits and Diamond obliged with many (but not all) of the regulars. At 74, his ability to entertain an arena is extraordinary, though vocally he was better off tackling more naturally framed compositions compared to his singing/speaking split on range-testing ballads or more karaoke-minded material.
The punchy pair "I'm A Believer" and "Desiree" got the boisterous audience to their feet and found the veteran (with arms often outstretched) in a jovial mood, accompanied by a top notch 11-piece band, two background singers and a diamond-shaped screen. The melodramatic "Love On The Rocks" was less flattering as the headliner couldn't quite hit the original notes and turned to mostly reciting the lyrics, though he rebounded a few songs later when taking a seat on the stage's stairs for the autobiographical "Brooklyn Roads" (accompanied by rarely seen childhood home videos).
The retro and recent intertwined with the Robbie Robertson-reared "If You Know What I Mean" and the even earlier career crest "Shilo," alongside an organic trio from Melody Road ("Nothing But A Heartache," "In Better Days" and "The Art Of Love") that demonstrated additional aptitude as an enduring troubadour. It's a shame their back to back placement prompted a mass exodus to the bathroom and beer lines, though everyone came flooding back by the cheerful double header of "Forever In Blue Jeans" and "Cherry, Cherry" (the first of several tracks featuring Diamond on guitar).
The encore focused less on storytelling and more on spectacle thanks to the extended sing-a-long "Sweet Caroline," which has steadily become his equivalent to Jimmy Buffett's "Margaritaville." It was followed by the patriotic but dated "America" and the showman's channeling of a charismatic preacher during the love it or loathe it "Brother Love's Travelling Salvation Show." But rather than wrapping up with that theatrical throwback as he does on many tours, Diamond dusted off the unsuspecting "Heartlight" (slightly tweaked as a gentle brass-peppered ballad), capping off the 25-tune trip down memory and Melody Road with another load of luster.
-Review and photos by Andy Argyrakis
Category: Featured, IE Photo Gallery, Live Reviews, Stage Buzz