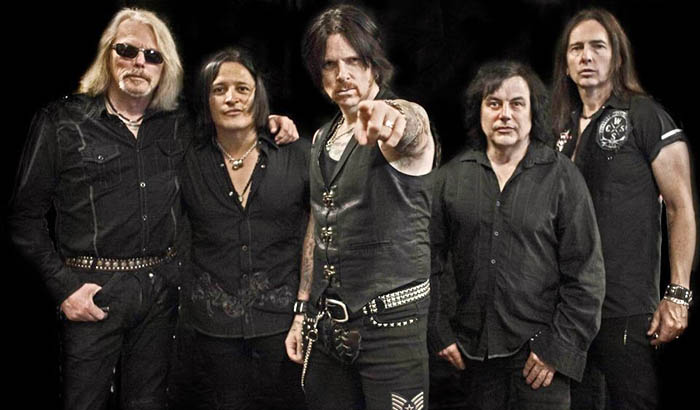 Damon Johnson (far right) of Black Star Riders
Growing up as an enormous Thin Lizzy fan, current Black Star Riders guitarist Damon Johnson had the pleasure of seeing the Irish-based rockers live in 1979. And it changed his life. So you can imagine that it was like a dream come true when Johnson got a call in 2011 asking him to join the band.
"When it came to my attention that Thin Lizzy had a spot that was about to open up, I just thought, 'Can you imagine playing those songs with those guys every night?'" Johnson said. "I never thought anything would come of it. And sure enough, I got a call from Scott's manager. The challenge was that I was in the middle of a tour with Alice (Cooper) and to tell you the truth — just on a business level and a commitment level — I initially said I couldn't do it. I couldn't leave Alice and the guys high and dry like that. It was my wife who talked some sense into me. She said, 'Damon, Alice loves you. He's had 30 guitar players in his life, I think he'll be OK. I think he can find somebody else to play "No More Mr. Nice Guy" so you can go play "The Boys Are Back In Town" with f-cking Scott Gorham!'" (laughing).
So Johnson got his wish and fulfilled his dream of playing those classic Thin Lizzy songs he grew up listening to. Making the transition from Thin Lizzy to Black Star Riders in 2012 was a no-brainer for longtime Thin Lizzy guitarist Scott Gorham. He wanted to record some new material as a band, but out of respect for the late and iconic bassist/vocalist Phil Lynott, a name change was warranted.
"Scott just wanted to make some new music," Johnson said. "I'll always believe that Scott deserves a lot of credit from the music community for continuing to celebrate that legacy and certainly Phil Lynott's legacy, and continue to go out and play those songs. He earned that, he deserves to be able to do that. But at the same time, like any other creative artist out there you want to do something new, you don't just want to play the same thing all the time. I just don't think he ever felt confident that he had the right guys around him to do that until Ricky (Warwick) fronted the band, who is a proper songwriter. And when I joined the band as well, he just knew he had two experienced songwriters. Even when he brought it up, I thought it wouldn't happen. On an excitement level I thought it was impossible. And I thought what the fan base was going to think, a new Thin Lizzy album without Phil Lynott? Out of our love, excitement and respect for everything that Thin Lizzy stands for, we just put our best foot forward and knew we had to (change the name) and come up with some great stuff.
Now on its sophomore release, The Killer Instinct, the band has successfully created its own identity, while Warwick affectionately captures the charisma and spirit of Lynott.
"There's no one better on the planet to fill the role that he's in," Johnson stated. "I think it's very important that Ricky's also an Irishman. I think it's very important that Ricky has a deep knowledge and love of Celtic and folk music. He knows his music history. There's just no one that could have been better. I joined Thin Lizzy to play those amazing songs with Scott Gorham and Brian Downey, but I joined Black Star Riders because of Ricky Warwick."
Touring for All Hell Breaks Loose certainly fueled the fire and got the band ultra tight to prepare them to make a new killer album, which is The Killer Instinct.
"More than anything, the last year and a half it gave us the opportunity to figure out who we really are. Because we didn't know when we made the first album. After touring we finally became a real band. The songs for the first album, we initially thought it was going to be a Thin Lizzy record, so we wrote them sort of under that umbrella, where as now, we were making a real Black Star Riders record. The Lizzy sound is in there. We want it there. For god's sake we have Scott Gorham in the band so it's going to be in there! In so many ways it's just the best of all worlds for all of us." Even though the future looks bright for Black Star Riders, Johnson says that no one should rule out the possibility that there won't ever be another Thin Lizzy live show.
"None of us would ever say that there would never be another Thin Lizzy performance ever," Johnson concluded. "Speaking for Scott, I know he's incredibly fulfilled right now with getting to be a part of Black Star Riders. But there may be something down the road somewhere. Who knows? There may be a promoter in London or maybe in Scandinavia that wants Thin Lizzy to play and maybe wants to pay the band $300,000. I'd imagine that Scott would pay attention to that phone call and call Brian Downey, or Marco (Mendoza) and everybody that was in Thin Lizzy in 2011 and see if it was worth doing. But right now, there's just no plan of anything like that."
– Kelley Simms
Appearing with Europe at House Of Blues, Chicago. Tickets available HERE
Headliners & Swedish rockers Europe, known for their sports anthem "The Final Countdown," are touring for the first time in 10 years supporting the new album War Of Kings.
Category: Featured, Monthly, Stage Buzz, Weekly